In a world where corporate giants dictate our choices, where every dollar we spend seems to feed into a system that values profit over people, it's easy to feel like just another cog in the machine as you make your purchases. This feeling may become most prevalent with our most frequent purchases, food and groceries. But what if your grocery store was more than an obligatory stop? What if it could be a statement of your values, a contribution to your community, and a step towards a more equitable and sustainable world?
Let us welcome to the Davis Food Co-op, a grocery store that's about so much more than just food.
As a college student, you're not just learning, you're actively shaping your world. Every decision you make, from your field of study to where you shop, is a reflection of your values and the future you want to create. Are you passionate about environmental sustainability? We prioritize local, organic produce and work hard to minimize waste. Concerned about workers' rights? We're committed to fair wages and good working conditions, both for our own employees and for the employees of our vendors. Want to support your local economy? We source seasonally from local farmers and producers whenever possible and carry products from over 500 local brands in store. The Co-op is made of a group of individuals who believe in the power of collective action, who care about fostering a sustainable food system, supporting local farmers, and promoting healthy, ethical choices. We are your neighbors. We are the people you see every time you go for a walk, a bike ride or a trip to the farmers market early on a Saturday morning. We are your community.
When you walk into the Davis Food Co-op, you're not walking into a sterile, impersonal supermarket. You're walking into a community hub.
You're likely to see familiar faces, maybe even friends. You'll find staff who are more than just employees – they're individuals who care about their work, their community, and their world.
But the sense of community goes beyond the walls of our store. As a co-op, we're deeply connected to our local community. We host events and classes, fostering connections and shared learning.
We give back to our community, supporting local causes and initiatives. And most importantly, we listen to the feedback of our customers, most of whom are Member-Owners who not only shop with us, but also own a piece of our business.
Anyone can shop at the Davis Food Co-op but joining as a Member-Owner means you're not just talking about these ideals, you're living them. Being an Owner means that you are making a small investment ($15 to start) to be extended rights, responsibilities, and influence to thrive as part of our store and community. You gain access to a myriad of extra promotions and programs, access to issued dividends, and the right to help choose the direction of the cooperative. You can vote, attend meetings, serve on the Board of Directors, track all of your purchases online, and much more. As part of the Co-op, you have an even greater say in our practices and policies. You can help us decide what products we stock, what initiatives we support, and how we can better serve our community. You become part of a cooperative that values transparency and mutual respect. Unlike traditional grocery stores, our goal isn't to maximize profits. Our goal is to use our profit to serve our Members and our community in the ways that they best see fit. And since we understand that not everyone can stay in Davis long-term, we offer the ability to Member-Owners to be refunded their investment at any time, no questions asked.
Let's take a moment to contrast this with your typical corporate grocery store. When you shop at one of these stores, your money goes towards lining the pockets of distant shareholders. Your choices are dictated by what will maximize their profits, not what's best for everyone as a whole. The products on the shelves are there because they're cheap to produce and yield high profit margins, not because they're good for your health or the environment. The workers you see in the store are often paid minimum wage, with little regard for their well-being or job satisfaction. In these stores, you're not a valued member of a community, you're a consumer. Your value is measured in dollars, your voice is systematically silenced through purposefully inept and complex bureaucracy. There your values are only considered while planning their exploitation, and your community is slowly drained.
Now, imagine a different kind of grocery store. Imagine a store where your voice matters, where your values are reflected in the products on the shelves, where your money goes towards supporting your local store and community rather than distant shareholders. Imagine a store where your value is intrinsic to you for simply being. That's the Davis Food Co-op. When you join us, you're not just joining a grocery store. You're joining a community. You're working towards creating a better, more sustainable world. So, if you're ready to keep moving forward, to align your actions with your values, we invite you to join us. Join the Davis Food Co-op, and let's make a difference together.
For more information on how to become a Member-Owner, visit https://davisfood.coop/ownership-info/
or the Customer Service Desk in store.
More >>
As a member of the Davis Food Co-op, have you ever stopped to consider the role that the board of directors plays in ensuring the success and sustainability of the organization? ​
The board serves as the governing body, responsible for setting the vision and direction of the Co-op, ensuring it remains true to its values and mission. Think of the board as the roots of a great tree. They provide stability while carefully guiding the path its growth will follow, keeping the Co-op grounded and simultaneously reaching ever higher.
Being a member of the Cooperative's board of directors is about more than just fulfilling a leadership role. It's a chance to make a positive impact on your community and be a part of something bigger than yourself. It's an opportunity to use your skills and experiences to support the values and goals of the Co-op, and to work with others who share your commitment to making a difference.
Serving on the board also offers personal growth opportunities. You'll have the chance to develop valuable skills such as business acumen, management experience, financial literacy, strategic thinking, and teamwork. And as a thank you for your efforts, Co-op board members receive a 16.5% discount on all their purchases at the store!
So, what does it take to be a member of the Co-op's board of directors? First and foremost, it requires a commitment to the values and goals outlined in the Co-op's Ends Statement. Board directors volunteer their time and energy for a term of three years, dedicating approximately 15-20 hours per month to meetings, committees, and other Co-op-related activities. This includes attending monthly board meetings, serving on at least one committee or task force, and participating in the annual ownership meeting and retreat.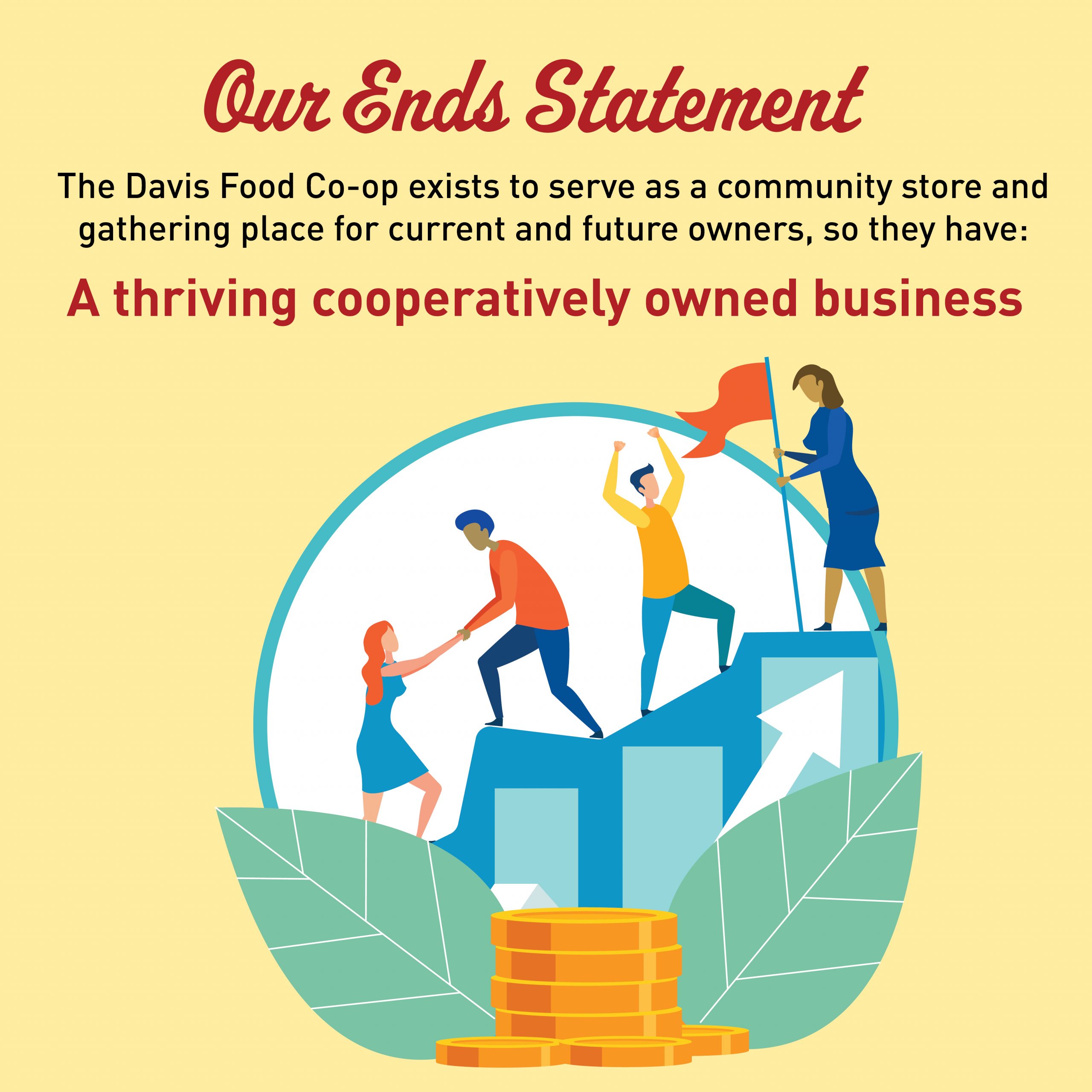 In addition to these regular commitments, board directors are also expected to participate in board training and other workshops, conferences, and Co-op events throughout the year. They should also be prepared to read and respond to email correspondence, as well as learn about the co-op movement and Policy Governance decision-making. Board directors are active and engaged members of the Co-op, and most importantly they are willing to listen to and represent the needs and concerns of the Co-op's members.
If you're interested in making a positive difference in your community and being a part of something bigger than yourself, serving on the board of directors at the Davis Food Co-op may be the perfect opportunity. It requires a commitment to the co-op's values and mission, as well as a willingness to devote time and energy to meetings, committees, and other co-op-related activities. But the rewards – both personal and for the community – are well worth it!
More >>