The American food system has been influenced by countless Black Americans who rarely receive the credit that they deserve
In honor of Black History Month in 2021, we wanted to recognize the contributions that Black Americans have had on our food system throughout history. In our research we found names that are often left out of our history books, even though their contributions have been monumental. The Co-op, and America as a whole, have been directly influenced by these innovators that created many of the advancements in food as we know them today. While this list is far from comprehensive, here are 28 Black innovators that helped build the American food system as we know it today. 
Combahee River Colony
Before we explore the impact of individuals, we must first acknowledge the impact of a particular group. From mutual aid societies and independent fugitive communities to land and food co-ops, the Black community has a long, but little recognized, tradition of cooperation in the United States. Early forms of cooperation included mutual insurance companies, buying clubs, and collective farming. Both free and enslaved Black people pooled money to pay for burials, land, sick benefits, and buying freedom for one another. The Underground Railroad is another example of a cooperative effort. Cooperation served as a powerful tool, allowing Black folks to improve each other's lives in the face of blatant racism and active sabotage. Housing and land co-ops offered Black folks access where racist and discriminatory policies would prohibit individual action. 
Throughout this long tradition of cooperation, women often founded and ran Black cooperative efforts. This is the case with the Combahee River Colony, which formed in South Carolina during the Civil War. As men left to join the Union Army, Black women in South Carolina took to the Gullah/Geechee Sea Islands in the Combahee River region to grow cotton on abandoned farms. These women formed an intentional community which collectively farmed the area throughout the war and several years after. Eventually, hundreds of women farmed with colony, securing food, shelter, and income for themselves and their families.
James Hemings
If you enjoy macaroni and cheese, french fries, crème brûlée, and/or ice cream, you have James Hemings to thank. Hemings was the first American to train as a chef in France and would go on to prepare Thomas Jefferson and Alexander Hamilton's meal as they sat down to political negotiations amidst their famous feud. 
James Hemings was born into slavery in 1765. When he was 8 years old, Thomas Jefferson inherited him as property. When Jefferson was appointed Commerce Minister to France, the 19 year old Hemmings went with him to train as a chef. He studied in prestigious French kitchens, trained with a master pastry chef, but, most importantly, he spent time at Château de Chantilly, which was considered to have better food and chefs than Versailles. He became the chef de cuisine at Hôtel de Langeac, Jefferson's personal residence, in 1787. Here he cooked for politicians and celebrities. 
Hemings was freed in 1796. He spent some years traveling before returning to Jefferson, this time as a paid employee, to run the Monticello kitchens. In 1801 he committed suicide. He and his cooking were recently immortalized in the musical Hamilton. Moreover, James Hemings introduced us to foods that would become hallmarks of American culture for centuries and set standards which chefs strive toward today.
Alexander P. Ashbourne
Alexander P. Ashbourne was an early inventor. He was born into slavery in Philadelphia around 1820 and while there are very few documented facts about his personal life, it is known that he grew up cutting wheat alongside his family members. This would lead him to think of more efficient ways to cut wheat which would result in an important invention later in life.
Since Ashbourne was born after the Pennsylvania Gradual Abolition Act was passed in 1780, he was not subject to a lifetime of enslavement. Although the exact date of his emancipation is unknown, by 1847 all enslaved people in Pennsylvania had been freed. Ashbourne disappeared from the public record until 1863, when he reemerged working as a caterer. By this time, he was well known and respected in the city. He catered weddings and buffets of the wealthy elite in Philadelphia, and was selected as one of a handful of local caterers for the 1863 Emancipation Celebration held in the city.
While attending this event, Ashbourne noticed that the biscuits were simply hand patted and lacked any real form. He began a decade-long process to create a device, a spring-loaded biscuit cutter, that would guarantee a uniform shape and size. Ashbourne applied for a patent for his invention on May 11, 1875, and on November 20, 1876 he was granted a patent for the cutter. The cutter also contained metal plates with various shapes. The cook could push down on the plate to cut the dough into specialized shapes, a method that is still used for numerous baked goods today.
Ashbourne continued to invent, and also received a patent for processing coconut oil on August 21, 1877. The Ashbourne process for refining the oil included filtration, bleaching, high temperature heating, and finally hydrogenation to ensure that no unsaturated fatty acids were left in the oil. Ashbourne began working on this process in 1875 and received a patent for it on July 27, 1880. Thanks to Ashbourne's early work, coconut oil is widely used in hair products, foods, and scented products today.
George T. Downing
In addition to being a prominent New York caterer, George T. Downing worked as an abolitionist and civil rights activist for over 70 years. He was born in New York City in 1819 to free parents, Thomas and Rebecca Downing. His father, Thomas Downing, cultivated oyster beds in the Jersey flats. In the 1830s, oysters were inexpensive and enjoyed universally in New York City. The senior Downing ran the Oyster House on Broad Street and served a menu that appealed to powerful white men. The Oyster House garnered international acclaim: Charles Dickens supped there and Downing sent oysters to Queen Victoria who sent back her thanks and a gold watch. George, who, like his father, was an entrepreneur, started his own catering business serving New York's elite as well.
The Downings' carpeted fine dining room lit by huge chandeliers was, of course, whites only. Downstairs, however, was a key stop in the Underground Railroad. Black folks making their way north could always count on the Downing's for safety and rest, and for the best oysters in the city. George Downing's activism didn't stop there. He funded schools for Black children, led the fight in desegregating New York's trolley system, with Frederick Douglas he propelled union efforts forward, pushed for integrating Rhode Island's public schools, enlisted Black men for the Union Army, argued for women's rights as well as civil rights, campaigned for an end to violence at the hands of the Klan during Reconstruction in the South, and advocated for the repeal of anti-interracial marriage laws in Rhode Island.
George Downing remained an activist until he died in 1903. As caterer to the stars (including the Kennedy's), Downing was a tastemaker of the New York elite, but it was his work as an abolitionist and civil rights leader which saved countless lives and has had a lasting impact on this country for the better.
Henry Blair
Henry Blair received his first US Patent in 1834, the second Black man to be issued a patent in the United States. His invention, a corn seed planter, dramatically improved efficiency in corn planting. A successful farmer for years, Blair used his inventions to increase productivity on his farm and farms across the country. Two years later, Blair was issued a patent for his mechanical cotton planter, similarly optimizing cotton planting. According to an 1836 article in The Mechanics' Magazine, Blair's planter could "save the labor of eight men".
Blair was born in Glen Ross, Maryland in 1807. Although he was likely a freedman, until 1858 free and enslaved men could apply for US patents. After a slave-owner challenged this law in 1857, the law was re-written to exclude any enslaved persons from applying for and obtaining a patent. This law wasn't changed until 1871, eleven years after Blair's death and six years after the end of the Civil War. Today, .3% of US patents are issued to Black Americans.
Martha Jones
Black women have long contributed to America's culture of innovation. Martha Jones, who may have been the first Black woman to earn a US patent, was an inventor who made significant contributions to agriculture with her corn husker and sheller. Jones was issued a patent for her "Improvement to the Corn Husker, Sheller" (pictured) in 1868, 59 years after the first white woman received a patent and 47 years after the first Black man. Jones claimed her invention could husk, shell, cut up, and separate husks from corn in one operation, marking a significant step forward in the automation of agriculture. Aside from the information associated with her patent, we don't know much about the life of Martha Jones. 
While Martha Jones is widely believed to be the first Black female recipient of a US patent, it is possible there were Black women who came before her. Time for a bit of patent law history: With the passing of the Patent Act in 1793, patent applicants were required to swear an oath affirming that they were the original inventor of the invention receiving the patent and that they were a US citizen. Fast forward to the 1857 Dred Scott decision which prohibited anyone of African descent from claiming US citizenship and the rights guaranteed by the Constitution to US citizens, regardless of place of birth or status of freedom. In many cases, this prohibited Black folks from receiving patents. However, it is possible that Black female inventors applied for patents through other people, a work around, before Martha Jones. That being said, Jones' corn husker and sheller represents a major step forward in agricultural processing, regardless of whether or not she was the first Black woman to receive a patent.
Robert Lloyd Smith
Robert Lloyd Smith founded the Farmers' Improvement Society in 1890 with the goal of guiding Black farmers to economic independence through home and farm ownership, cooperative buying, cash purchasing instead of credit buying, and raising most of their own food. Although born, raised, and educated in South Carolina, R L Smith moved to Oakland, Texas in the late 1870s to become the principal of the Oakland Normal School, a leading teacher-training educational institution in the state. Before founding the Farmers' Improvement Society, he served as an aide to Booker T Washington, advocating for self-help and solidarity as a means to economic independence and growth for Black US Americans. ⁠
⁠
Smith founded the Society to assist Black farmers in the area who worked as sharecroppers and tenant farmers. Sharecropping and tenant farming required farmers to rent land from the landowner, give a portion of their crop to landowners as rent, and purchase seeds and equipment from the landowner or from a merchant on credit. Many Black farmers became deeply indebted to landowners. R L Smith challenged this system through the Society which also sponsored agricultural fairs for Black farmers and paid sickness and death benefits. The Society spread throughout Texas and to Oklahoma and Arkansas. Under R L Smith's leadership the Society grew to include a truck growers' union, an agricultural college, the Farmers' Improvement Bank, and the Woman's Barnyard Auxiliaries, which specialized in better egg, poultry, butter, and swine production. ⁠
John Stanard
Though little is known about John Stanard's early life specifically, it is known that he lived and worked in a specific era and place—Newark, New Jersey, in the late 1880s and early 1890s. It was here that Stanard worked to make improvements to kitchen appliances that would eventually lead to innovations in both refrigerator and stove designs that forever changed the way people around the world stored and cooked their food. 
Stanard did not invent the refrigerator itself, vapor-compression, or the liquifying of gases necessary for the development of modern refrigerators, but he did create a manually filled ice chamber that was separate from the main refrigerator unit. The ice-filled chamber was located in the left bottom corner area of the unit, while the main refrigerator section was to the right. He introduced air ducts or holes to help cold air circulate from the ice chamber to the main refrigerator. The cold air, and cold "drip," was passed from the ice chamber to the refrigerator through cold-air ducts and perforations which created a constant circulation of air maintained through the several chambers. The basic idea of having a "freezer" separate from the main refrigerator unit was his and was eventually expanded on after his contributions.
Aside from his work with refrigeration, Stanard had also worked on innovations to improve the oil stove with a space-saving design that he suggested could be used for buffet-style meals on trains. He received a patent for this improvement and the Stanard stovetop was the first design of many generations of stovetops where food is served hot in portable catering stoves.
Abby Fisher
One Summer day in 1880, a 48-year-old Mrs. Abby Fisher took the stage at the 15th annual San Francisco Mechanics' Institute Fair to accept two medals: a bronze for best pickles and sauces, and a silver for best assortment of jellies and preserves. The jurors later wrote that "her pickles and sauces have a piquancy and flavor seldom equaled, and, when once tasted, not soon forgotten."
At this point, Fisher was already a famed, local, culinary authority. She had taken home a diploma at the Sacramento State Fair in 1879, its highest award. Her cooking chops became so revered that the Women's Co-operative Printing Office published her extensive cookbook, entitled "What Mrs. Fisher Knows About Old Southern Cooking", in 1881.
Fisher migrated from Alabama with her husband and 11 children to California in 1877. Upon arriving in San Francisco, she used her talents to set up a preserves business. The extraordinary cookbook she put together is one of the first authored by an African-American woman. Besides being a trove for sensational recipes —ranging from savory to sweet, encompassing both the briney and beefy—Fisher's cookbook also helped to immortalize the culinary imprint of African-Americans.
What's most remarkable about Fisher's recipes is that they're captured in her own words which was a rarity for African Americans at that time. They also provide a clear glimpse into food that she herself made at home for her family rather than what she cooked at plantations early in her life. In recent years, chefs and cultural institutions alike have been cooking Fisher's specialties and revamping them for 21st-century palates. Abby Fisher paved the way for African American women to be respected and awarded for their contributions to the culinary world, and her recipes have truly stood the test of time.
Judy Reed
If you've ever kneaded bread dough by hand you may have found yourself wishing for an easier way to do it. Enter Judy Reed. Judy Reed was issued a US patent in 1883 for her Improved Dough Kneader and Roller (pictured). Her machine allowed bread dough to be more evenly mixed before getting rolled out into a covered chamber. With her invention, Reed directly contributed to advancing both food processing and food safety. 
Unfortunately, we don't know much about the life of Judy Reed. She lived in Washington DC and signed her patent with an "X". Likely the third Black woman to receive a US patent, Reed lived at a time when Black women inventors received little recognition for their inventions and saw fewer profits. We do know that Judy Reed thought critically about food and food systems and had the mechanical know-how to contribute meaningfully to the process. Most of us still eat store-bought bread on a daily basis, so next time you toast up a slice of bread think of Judy Reed and her contribution to your breakfast!
Joseph Lee
Joesph Lee's world was the food industry, and his glorious career in food service began when he was a young boy and worked in a bakery. Armed with hands-on experience, he eventually began preparing, cooking and serving food. He was so successful that he opened two restaurants in the Boston area, then went on to also own and manage the popular Woodland Park Hotel for 17 years.
It was during the peak of his success as a Master Chef that Lee got the idea for the bread crumbing machine. In his opinion, throwing out day-old bread was a waste, when it could instead be used to prepare foods. He had long felt that bread crumbs were superior to cracker crumbs, so he quickly began working on a device that automatically tore, crumbled and ground day-old bread into crumbs.
In June of 1895, Lee patented his bread-crumbing machine. The picture here is of Lee himself using the machine. Lee's machine was so efficient, it reduced manpower by 75% and was quickly adopted by restaurants all over the country. But Lee wasn't finished. He soon invented a bread-making machine that could mix ingredients and knead dough so quickly and efficiently, it did the work of six men — and did it cheaper and more hygienically than it had ever been done before. This machine was the predecessor of bread-making machines that are still in use in bakeries and restaurants all across the world today.
Alfred Cralle
What's the scoop on Alfred Cralle? Born in 1866 in Virginia, just after the end of the American Civil War, Cralle attended local schools and worked for his father in the carpentry trade as a young man. During that period, he also became interested in mechanics.
Cralle was sent to Washington D.C. where he attended Wayland Seminary, a branch of the National Theological Institute, one of a number of schools founded by the American Baptist Home Mission Society immediately after the Civil War to help educate newly freed African Americans. After attending the school for a few years, Cralle moved to Pittsburgh, Pennsylvania, where he worked as a porter at a drugstore and at a hotel.
While working at the hotel, he developed the idea of the ice cream scoop. It came to him when he noticed ice cream servers having difficulty trying to get the popular confection desired by the customer into the cone they were usually holding. The ice cream tended to stick to spoons and ladles, usually requiring the server to use two hands and at least two separate implements to serve customers. Cralle responded to that problem by creating a mechanical device now known as the ice cream scoop. He applied for and received a patent on February 2, 1897.
Cralle's invention, originally called an Ice Cream Mold and Disher, was designed to be able to keep ice cream and other foods from sticking. It was easy to operate with one hand. Since the Mold and Disher was strong and durable, effective, and inexpensive, it could be constructed in almost any desired shape, such as cone or a mound, with no delicate parts that could break or malfunction. This innovative product has lasted until today as the best method for scooping ice cream. Next time you get a cone or cup, be sure to remember the contributions of Alfred Cralle!
Virginia Estelle Randolph
Virginia Estelle Randolph was a pioneering educator, community health advocate, organizational leader, and humanitarian. She was born to formerly enslaved parents in Richmond, Virginia in 1870 and would go on to a career in education and community building which spanned nearly 60 years. Her passion for education commitment to her community sparked interracial cooperation which broadened access to educational opportunities and healthcare for Black folks in her community.
As the first countywide Jeanes Supervising Industrial Teacher in the South in 1908, Randolph traveled to every Black school in Henrico County to train teachers and build community support. She was internationally recognized for her methods which were used in rural communities across the South and in British colonies abroad.
As a founding member of the Negro Organization Society, Randolph led major initiatives in public health and continuing education for Black educators and farmers. The society's motto, "Better Schools, Better Health, Better Homes, and Better Farms," encompasses Randolph's holistic approach to community health and wellbeing. To the same end, she was appointed Chairman of the committee in charge of food supplies of the Colored Branch of the Red Cross, of which she was a founding member. Randolph strengthened not only her community, but laid a groundbreaking foundation for community health advocacy and rural education. And although we may not realize it, her contributions have had a lasting legacy as teachers continue her work today.
George Washington Carver
George Washington Carver is often credited with the creation of peanut butter but his influence in the world of food goes far beyond that. He was an agricultural chemist, agronomist, and experimenter whose development of new products derived from peanuts, sweet potatoes, and soybeans helped revolutionize the agricultural economy of the South in the early 20th Century.
Starting in in 1896, Carver devoted his time to research projects aimed at helping Southern agriculture, demonstrating ways in which farmers could improve their economic situation. He conducted experiments in soil management and crop production and directed an experimental farm. At this time agriculture in the Deep South was in steep decline because the unremitting single-crop cultivation of cotton had left the soil of many fields exhausted and worthless, and erosion had then taken its toll on areas that could no longer sustain any plant cover. As a remedy, Carver urged Southern farmers to plant peanuts and soybeans. As members of the legume family, these plants could restore nitrogen to the soil while also providing the protein so badly needed in the diet of many Southerners at the time.
Carver revealed his experiments to the public in 1914, and increasing numbers of the South's farmers began to turn to peanuts, sweet potatoes, and their derivatives for income. Much exhausted land was renewed, and the South became a major new supplier of agricultural products. When Carver started his research in 1896, the peanut had not even been recognized as a crop, but within the next half century it became one of the six leading crops throughout the United States and, in the South, the second cash crop by 1940. Additionally, his research ultimately helped develop 300 derivative products from peanuts—among them: milk, flour, ink, dyes, plastics, wood stains, soap, linoleum, medicinal oils, and cosmetics—and 118 from sweet potatoes, including: flour, vinegar, molasses, ink, a synthetic rubber, and postage stamp glue.
George "Crum" Speck & Kate Wicks
George "Crum" Speck is often credited with the invention of the potato chip. While there is no doubt that Speck helped popularized this new snack that would become a staple in America, there seems to be some indication that his sister, Kate Wicks, may have also played a part in the accidental discovery of the chip while they were working together as cooks at the Moon Lake Lodge Resort in Saratoga Springs, NY.
The commonly told tale goes something like this: A customer that ordered french fries repeatedly sent them back to the kitchen for being too thickly cut. In frustration, Speck cut a potato into the thinnest of slices, fried them in oil, and sent them back out. These crispy fried potatoes would be the first potato chips served in the US. However, his sister Kate Wicks has a different version of the story in which she says she sliced off a sliver of potato and it fell into a hot frying pan by accident. Speck then tasted the sliced potato and gave his enthusiastic approval of the chip.
Regardless of which story was the correct version, there is no doubt that Speck's promotion of the chip helped popularize it. Wealthy visitors to Moon's restaurant soon spread the word about the "Saratoga chips", often traveling from Boston and New York specifically for the delicacy. Speck opened his own restaurant, Crum's Place, in 1860 in Malta, New York where he provided every table with a basket of chips. His chip would remain a delicacy for the elite until the 1920s when entrepreneur Herman Lay brought the chips to the South to introduce them to a wider audience. Lay's mass production and worldwide distribution of potato chips soon overshadowed Speck's legacy. Nonetheless, the accidental discovery of the potato chip by George Speck and Kate Wicks led to the potato chip as we know it today in the US.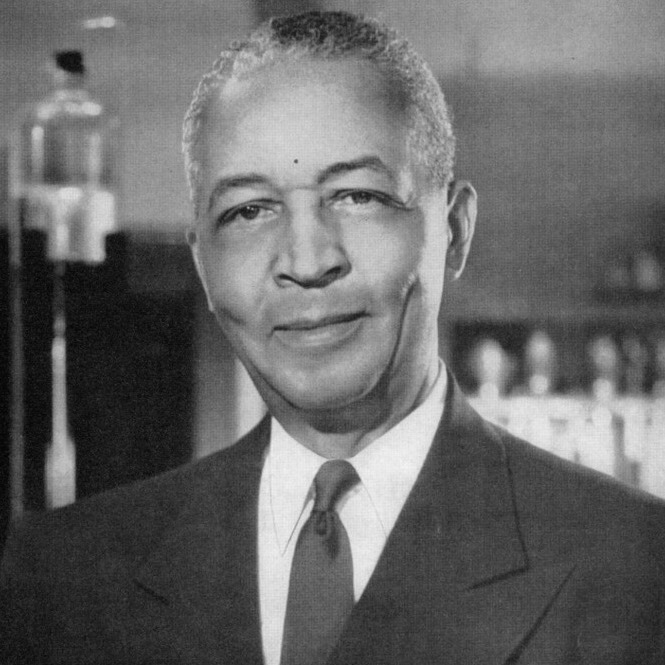 Lloyd Augustus Hall
Lloyd Augustus Hall invented a number of ways to better preserve food and is widely regarded as one of the most important food chemists of the 20th century. During a 40+ year career that started in 1921, he amassed 59 U.S. patents while working as a consultant for both Griffith's Laboratories and the Food and Agriculture Organization of the United Nations.
Hall pioneered antioxidant use when he discovered that foods with fats and oils spoiled when certain ingredients react with oxygen in the air. He also proved that some spices exposed food to microbes that sped up the process of food spoiling. This was contrary to beliefs at the time, which held that spices acted as food preservatives.
Many food preservation techniques used today were pioneered by Dr. Hall's methods. He is responsible for many of the meat curing products, seasonings, emulsions, bakery products, antioxidants, protein hydrolysates, and other substances that keeps certain foods fresh and flavorful today.
Frederick McKinley Jones
In 1939, Frederick McKinley Jones patented the world's first successful refrigerated transportation system. Two years later, he released an improved version, the Thermo King Model C, which revolutionized the agriculture and grocery industries.
While Frederick McKinley Jones patented more than sixty inventions over his sixty-seven-year lifetime (making him one of the most prolific African-American inventors ever) the Model C stands as his most prominent achievement. The Model C was the first cooling unit mounted on the front side of a vehicle. Units fixed in this location collected less dirt than under-mounted versions. That combined with its unitary, metal body gave it the rigidity to withstand long trips and the lightness (700 lbs) to save precious engine power. This meant that seasonal crops could now be shipped across longer distances and nations could trade perishable goods.
Today, more than ¾ of food transported in the United States is done so with a refrigeration unit. There is no doubt that Jones' innovation helped shape the future of both agriculture and the modern grocery store.
Dr. Booker T Whatley
Did you know Community Supported Agriculture has roots in Black history? Although popularized by white farmers in the 1980s, Dr. Booker T Whatley listed having a Clientele Membership Club as one of his Ten Commandments for Small Farms in the 1960s. Dr. Whatley was born the eldest of twelve children on his family's farm in Anniston, Alabama. With a passion for agriculture, Dr. Whatley grew up to be a prominent author, horticulturist, and professor at Tuskegee University.
Between his youth and adulthood Dr. Whatley saw the steep decline of Black farms and farmers. When he was born black farms made up 14% of farms in the US. In 2021, Black farms account for just 1.4%. Seeing this decline, he created his Ten Commandments which he considered essential for the success of small and mid-sized farms in the 60s and 70s. Dr. Whatley's Clientele Membership Club, asked members to pay an upfront fee to pick their own produce throughout the season. This enabled farmers to pay for seeds and equipment without taking out a loan at the beginning of the season, saved them labor during harvest, and gave club members agency in choosing their food.
Dr. Whatley's Ten Commandments were cutting edge in his time. Now, we consider CSA and Pick Your Own staples of the good food movement. And while CSA and cooperative economics in farming have been practiced all over the world, we want to recognize Dr. Whatley's contribution and its revolutionary effect on US American farming.
Jereline Bethune
While many know the story of Rosa Parks, and how she refused to give up her seat on a bus in Montgomery, the work of Jereline Bethune is not as widely discussed. Shortly after Parks' historic act of activism, more bus boycotts began around the city and it was the staff of Brenda's Bar-B-Que Pit in Montgomery, AL, owned by the Jereline and her husband Larry, that helped organize parts of those boycotts. These boycotts helped propel the civil rights movement into the national conversation at the time.
Jereline and Larry Bethune first opened the restaurant in 1942; back then it was a nightclub, the Siesta Club, that also sold food. It later shifted focus towards barbeque and became Brenda's, named for one of their daughters. Jereline's passion for food was paired with her passion for the civil rights movement, and her restaurant became an important community pillar. Brenda's Bar-B-Que Pit would go on to become an unofficial center for the local civil rights movement, holding N.A.A.C.P. meetings, printing fliers and planning protests.
But even after the bus boycotts, Ms. Bethune continued her work for the movement. Most notably, she quietly held lessons to teach other African-Americans to read so they could pass the literacy test, which functioned as a way to suppress the black vote during the height of the Jim Crow era. Donetta Bethune, the Bethunes' granddaughter, described it as: "Let's learn how to read. Let's learn how to vote. Let's go after our own rights so we never have to be treated in a way that we're not equal to again. In the black community, that's how they lived back then. Everyone helped each other, or else how could you get by or how could you make it through?" Jereline also continued organizing and supporting boycotts and protests. She can be found pictured directly in the center of this image taken from the notorious March from Selma in 1965.
Brenda's is family-run to this day, and it still feeds locals its popular ribs, pig ears and chopped pork. But more important than the food, is the legacy that was left behind.
Edna Lewis
Edna Lewis, known as the Grande Dame of Southern Cooking, was one of the first Black women from the South to write a cookbook that did not conceal her true name, race, or gender. She also taught Americans to appreciate and love traditional Southern cuisine. She was born in 1916 in Freetown, Virginia, a community that was largely independent and practiced cooperation. She grew up growing, foraging, harvesting, and processing food for her community. She learned to cook and learned to love it from an early age. 
Lewis moved to New York City at age 16 and became an accomplished seamstress making dresses for the likes of Dorcas Avedon and Marilyn Monroe. But this was not her dream. In 1949 her dreams came to fruition when she and her friend John Nicholson opened Cafe Nicholson where she was head chef. Lewis prepared traditional Southern dishes for Marlon Brando, Tennessee Williams, Greta Garbo, Salvador Dali, and Eleanor Roosevelt among others.  
Lewis recognized the growing demand for cookbooks and creative foods and sat down to pen the Edna Lewis Cookbook at a time when publicly visible Black women chefs were few and far between. With her first book a success, Julia Child's editor, Judith Jones, approached Lewis about more cookbooks. She published several more cookbooks that celebrated Southern cuisine and broke ground for Black women chefs across the country. She mentored many prominent chefs, garnered international acclaim, and continued working as a chef into her 70s.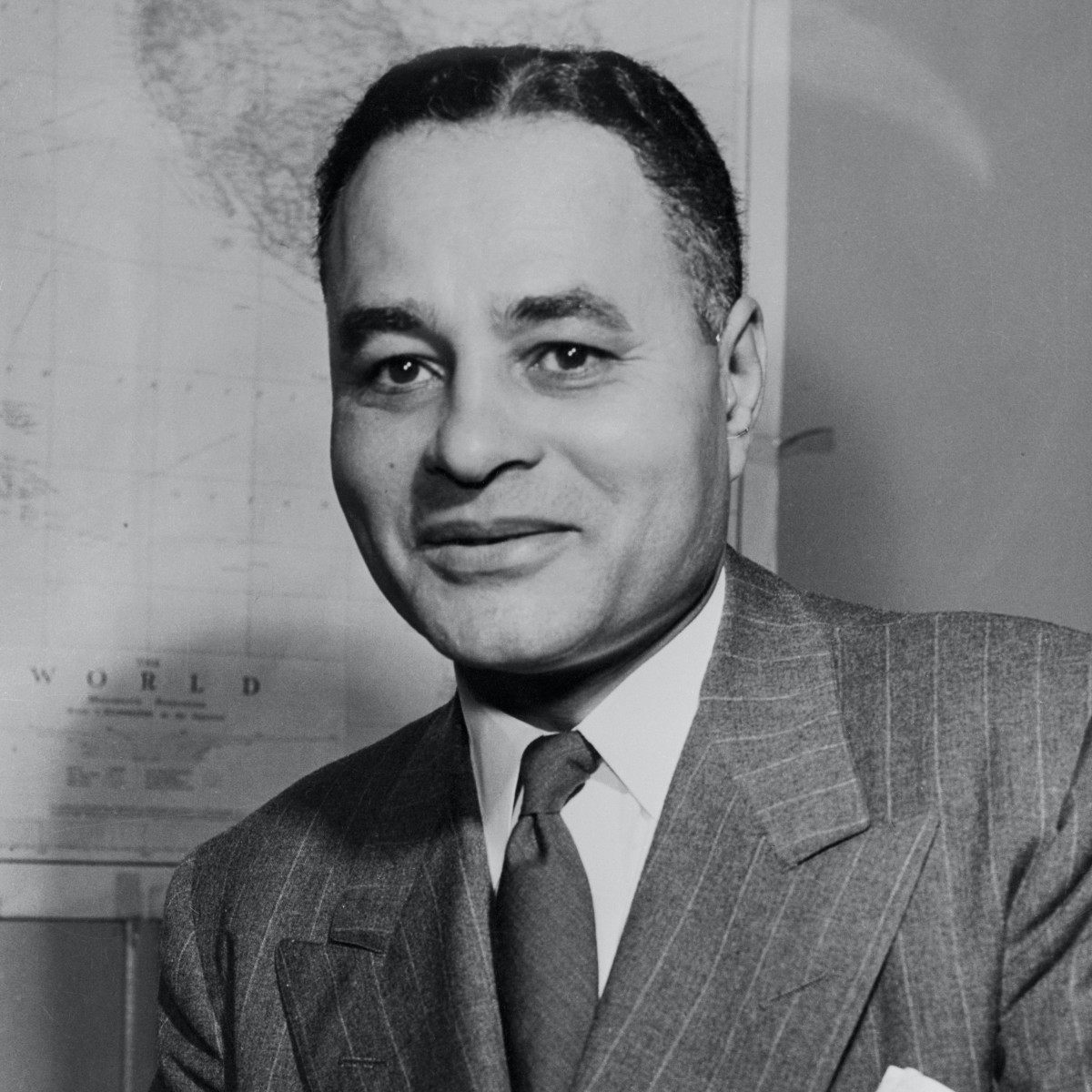 Ralph J. Bunche
Ralph J. Bunche was an accomplished scholar, diplomat, and the first African American to win the Nobel Peace Prize in 1950. In addition to his numerous contributions to the fields of politics and diplomacy, Bunche was also an expert on international food issues and an advocate for food security.
Bunche was deeply concerned about the impact of food scarcity and malnutrition on global peace and stability. He believed that addressing food insecurity was crucial to promoting peace and stability, and he worked tirelessly to raise awareness about the issue. Bunche played a key role in the development of the United Nations' food policies and programs, and he was instrumental in establishing the UN's Food and Agriculture Organization (FAO).
Bunche was also a champion of sustainable agriculture, advocating for policies that would ensure the long-term viability of food systems. He recognized the importance of small-scale farmers and the role they play in promoting food security, and he worked to empower communities to take control of their own food systems. He was a visionary who understood the critical importance of food security, and he worked tirelessly to promote peace and stability through sustainable agriculture and food policies.
Mahaboob Ben Ali
Mahaboob Ben Ali (AKA Ben Ali) was an Indo-Trinidadian American entrepreneur who founded the iconic Ben's Chili Bowl restaurant in Washington, D.C. He is known as a pioneer of Black entrepreneurship in the American food industry as his restaurant has played a prominent role during the Civil Rights era and hosted countless politicians throughout the years.
Ben's Chili Bowl was founded in 1958 and quickly became a popular destination for chili and other classic American foods. Ali was a strong advocate for Black entrepreneurship and was known for his commitment to supporting the local community. He was active in various organizations and initiatives aimed at promoting entrepreneurship and helping small businesses succeed. In 1968 following the assassination of Martin Luther King Jr, most businesses along the street where his restaurant is located were either damaged or looted by angry demonstrators. However, Ben's Chili Bowl was untouched as the community knew of Ali's contributions and importance as a gathering spot for Black residents of Washington D.C. 
In recognition of his contributions to the American food system and the Black community, Mahaboob Ben Ali was honored with numerous awards and recognition, including being inducted into the Restaurant Hall of Fame.
Zephyr Wright
Zephyr Wright drew in crowds with her comfort food. But the one person who may have benefited the most was Lyndon B. Johnson.
Wright was born and raised in Marshall, TX and in 1942, she started working for the Johnsons as a maid and cook to help pay her way through college. She ended up staying with the family until 1969, through the duration of Johnson's presidency. While Johnson was in Congress, his home quickly became known for its food, as other politicians visited regularly and built relationships over Wright's chile con queso and peach cobbler. Lady Bird Johnson once wrote, "I have yet to find a great chef whose desserts I like as well as Zephyr's."
Wright was known to have told Johnson of her experiences with discrimination which ultimately guided his decision making process in regards to Civil Rights changes at the time. Leonard H. Marks, the director of the United States Information Agency at the time of Johnson's presidency, was one witness to this. "When Sammy and I drive to Texas and I have to go to the bathroom, like Lady Bird or the girls, I am not allowed to go to the bathroom," Mr. Marks recounted Wright telling Johnson. (Her husband, Sammy, was Johnson's driver.) "I have to find a bush and squat. When it comes time to eat, we can't go into restaurants. We have to eat out of a brown bag."
When Johnson signed the Civil Rights Act of 1964, Wright was there. After he finished, he gave her a pen he used and said, "You deserve this more than anybody else."
Robert W. Lee
The year is 1964. There is a line stretching nearly a mile from the doors of the Harrisburger Hotel. The smell of chicken pot pies and chopped chicken livers wafts through the air. But everyone is in line for Executive Chef Lee's crab cakes as the Harrisburger is the only place to get authentic Southern crab cakes in the North. 
Chef Robert W. Lee was born in Georgia. In 1918, at the age of 7, he started work for French Chef Eugene Bruauier after noticing the man coming from the Baltimore Hotel day after day and doing quite well. Lee trained under Bruauier for 13 years. By now an accomplished chef, he joined the army in 1942 where he became a mess sergeant and instructor. He was awarded a presidential medal by Franklin D. Roosevelt for training hundreds of cooks during the war. Shortly after his discharge he became the executive chef at the Harrisburger Hotel in Pennsylvania. Later in life he said, "Harrisburg, as far as food, was not on the map until I came here." 
He served as executive chef for nearly 30 years. Throughout his career Lee trained Black men and women for careers in the culinary field. He lectured and held cooking demonstrations at the Pennsylvania State University School of Hotel Management. He had a fiercely loyal following at every restaurant he managed and cooked in. Lee worked and succeeded in a field dominated by white men and in a country where Jim Crow Laws mandated segregation. Later in his career, he was asked to do a cooking demonstration at a hotel. A sign outside of the hotel directed Black folks to the rear entrance. He threatened to leave unless management agreed to let him walk through the front door, which they did. In later interviews he stated that he didn't let discrimination slow him down. In 1979 he retired with his wife, Geneva, and continued cooking until his death in 1999. Countless chefs alive today were trained by Lee and his crab cake recipe lives on.
Melbah McAfee Smith
Today we're sharing the story of cooperative developer and 2009 Cooperative Hall of Fame inductee Melbah McAfee Smith. McAfee Smith was born on a rural farm in Mississippi where her family operated 40 acres of fruit, vegetables, and livestock. In 1972, after graduating with a degree in business administration, she began her 40 year career as a co-op developer with the Federation of Southern Cooperatives.
Through her work with the Federation, Mississippi Association of Cooperatives, and the Mississippi Cooperative Development Center, McAfee Smith built co-ops in some of the most impoverished areas of the country. Using the cooperative model and her visionary leadership, McAfee Smith brought health care, economic development, and social justice to the communities she worked with. She helped form more than 25 co-ops and developed invaluable financial support networks to ensure their longevity. After Hurricane Katrina McAfee Smith helped form the state's first worker-owned business, which created jobs and provided health care for low income and elderly folks in New Orleans' Lower Ninth Ward.
Melbah McAfee Smith's work has propelled the cooperative movement forward. We're inspired by and grateful for her insight, enthusiasm, and unparalleled intuition when it comes to building communities and grassroots cooperative action. She says, "…I am convinced that cooperation works, and if we work together we can change things, not only in our local communities, but in our regions as well as in this country. There's a spiritual relationship to working together." We couldn't agree more.
Moe Burton
Bryant-Central Co-op was started in the mid-70s and was spearheaded by a community organizer, Moe Burton. Burton, who had been involved in the Socialist Workers Party and the Black Panthers, was drawn to the practicality of the co-op. He worked closely with the Cooperative Organization in Minnesota to create an equitable and affordable store that everyone could benefit from.
.
While many co-ops at this time focus on healthy food and volunteer workers, Moe fought hard for affordability over all else. The co-op also moved to compensation much quicker than others, hiring young adults and teenagers in the neighborhood to learn skills and stay busy during the summer.
.
Bryant-Central, unfortunately, closed in 1978, but Seward Co-op filled the need for healthy and affordable food in this neighborhood.
.
"At Seward Co-op we are proud to honor and build on the legacies of past cooperators. People like W.E.B. Du Bois, Mo Burton, and groups like the Credjafawn Social Club, not to mention, the countless unnamed individuals that did the physical work of starting first wave co-ops are critical in our understanding of the stories of those who came before us. Communities, like our own, have used cooperatives in order to end oppression and eradicate injustices, particularly in food justice." – Seward Co-op
Leah Chase
Leah Chase was a legendary New Orleans chef and civil rights activist who made significant contributions to the American food system. She was the proprietor of Dooky Chase's Restaurant, which became a hub for the Civil Rights Movement in New Orleans. With her delicious Creole cuisine and warm hospitality, Leah Chase earned a reputation as the "Queen of Creole Cuisine." Her restaurant was a safe haven for African American activists, politicians, and artists, and her kitchen served as a melting pot for the exchange of ideas and strategies.
Chase was a passionate advocate for food justice, using her platform to highlight the cultural significance of Creole cuisine and the role of black women in Southern cooking. She was also a strong supporter of local and sustainable agriculture, using locally grown ingredients to create her delicious dishes. Her cookbook, "The Dooky Chase Cookbook," is a testament to her culinary skills and a celebration of Creole cuisine.
Leah Chase's impact on the American food system is immeasurable. She was a trailblazer who broke down barriers and challenged the status quo, paving the way for future generations of black chefs and restaurateurs. Her legacy continues to inspire and influence the culinary world, and her impact on the American food system will be felt for generations to come.
Vertamae Grosvenor
Vertamae Grosvenor was a renowned chef, author, cultural commentator, and a pioneering voice in the culinary world. She is most notably known for using her platform to celebrate the rich cultural heritage of Gullah people and their cuisine to advocate for food justice. Gullah people are descendants of enslaved West and Central Africans who were brought to the Lowcountry region of South Carolina and Georgia to work on rice and indigo plantations. Despite being isolated from mainstream American culture, the Gullah people developed a rich and vibrant culture that blended African and American traditions.
Grosvenor was a culinary trailblazer, bringing the flavors and traditions of Gullah cuisine to a wider audience. She was passionate about preserving the cultural heritage of the Gullah people, and she used her cooking skills to share their stories and celebrate their history. Her cookbook, "Vibration Cooking," is a testament to her culinary skills and a celebration of Gullah cuisine.
In addition to her contributions to the culinary world, Grosvenor was also a vocal advocate for food justice. She recognized the important role that food plays in shaping culture and identity, and she used her platform to raise awareness about the importance of food sovereignty and food access. She was a strong supporter of local and sustainable agriculture, and she believed that everyone should have access to healthy and nutritious food.