Environmental Working Group (EWG) recently released their 2023 Dirty Dozen and Clean 15 list. EWG is a non-profit organization that specializes in research and advocacy in the areas of agricultural subsidies, toxic chemicals, drinking water pollutants, and corporate accountability.
Since 2004, EWG has released a Dirty Dozen and Clean 15 list of the most and least pesticide-contaminated non-organic fresh fruits and vegetables, respectively, based on the latest tests by the Department of Agriculture and the Food and Drug Administration.
Pesticides are toxic by design
Although they're intended to kill pests such as fungi, insects, and plants, many pesticides are also linked to serious human health issues, including hormone disruption, brain and nervous system toxicity, and cancer.
Many pesticides are still legal for use in the U.S. but have been banned in the EU because of the science showing threats to human health and wildlife. Four toxic neonicotinoids – imidacloprid, thiamethoxam, clothianidin and dinotefuran – remain legal for use here, even though the EPA has acknowledged their danger to insects like honeybees.
For their 2023 Shopper's Guide to Pesticides in Produce, the EWG used data that tested over 46,569 samples of 46 fruits and vegetables, covering 251 different pesticides.
The goal of these lists is to educate consumers so they can make the best decisions for their families while navigating the produce sections of their grocery stores.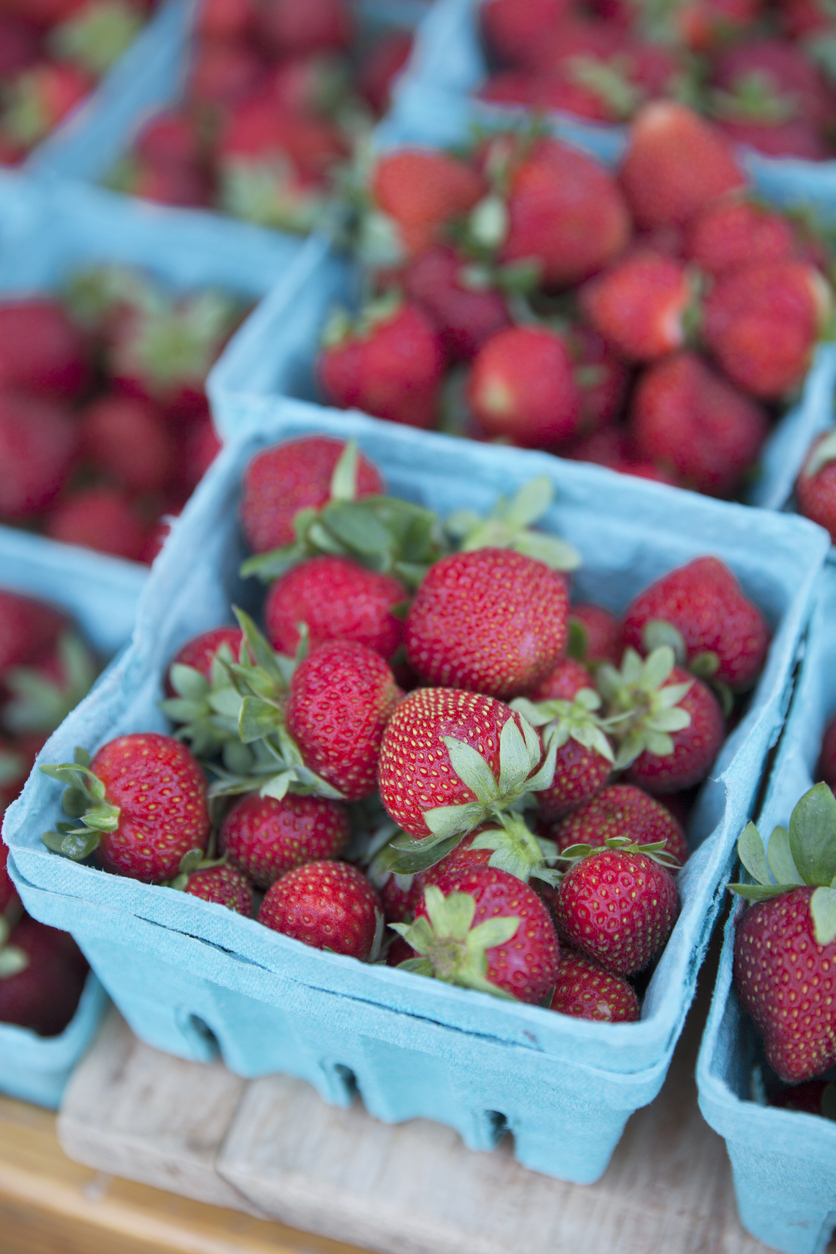 Dirty Dozen List
These conventional fruits and vegetables were tested and found high traces of pesticides. It is recommended to get these fruits and veggies organic, whenever possible.
1. Strawberries
2. Spinach
3. Kale, Collards, & Mustard Greens
4. Peaches
5. Pears
6. Nectarines
7. Apples
8. Grapes
9.Bell/Hot Peppers
10. Cherries
11. Blueberries
12. Green Beans
Clean 15
These conventional fruits and vegetables were tested and this year, almost 65% of Clean Fifteen samples had no detectable pesticide residues. If purchasing organic produce is not an option, these are the safest recommended conventional produce.
1. Avocados
2. Sweet Corn
3. Pineapple
4. Onions
5. Papayas
6. Sweet Peas (frozen)
7. Asparagus
8. Honeydew Melons
9. Kiwi
10. Cabbage
11. Mushrooms
12.Mangoes
13. Sweet Potatoes
14. Watermelon
15. Carrots
Let's be clear though..
Organic foods may still have small amounts of chemical residue, mainly due to contamination from nearby conventional farms, as well as having trace amounts of organic pesticides. Most organic pesticides are not synthetic and are derived from natural sources, such as minerals, plants, and bacteria. One of the best ways to know exactly how the produce you are consuming is grown, is to do some research on the farm which the produce is coming from. Or, if it is a local farm, you might have the opportunity to talk to the farmers directly and be told exactly what their farming practices are.
Below are two natural fruit and veggie washes that you can use on your organic and/or conventional produce.
Fruit and Veggie Wash
What You'll Need
Spray Bottle

Measuring cups and spoons

Colander

1 Cup White Vinegar

4 Cups of Water

1 Tbsp of Lemon Juice

Gentle Scrub Brush

Paper Towels

Instructions
1. Make your solution: To clean most fruits and vegetables, mix a solution of the cup vinegar and water inside your spray bottle, then add a tablespoon of lemon juice. Shake well to combine.
2. Place your fruit or vegetable in a colander in the sink. Spray it liberally with the mixture, then let it sit for two to five minutes.
3. Rinse off the mixture thoroughly with cool water, using a vegetable scrub brush on thicker-skinned produce.
4. Pat dry with paper towels.
Veggie Wash for Leafy Greens*
What You'll Need
Glass or metal Bowl

Measuring cups and spoons

1 cup White Vinegar

4 Cups of Water

1 tbsp Salt

colander or salad spinner

Paper Towels

Instructions
1. Make your solution: Fill the bowl with the solution of vinegar and water, then add the salt.
2. Let the greens sit in the solution for two to five minutes, then remove.
3. Rinse off the mixture thoroughly with cold water either in a colander or the basket of a salad spinner.
4. Dry the greens with paper towels or give them in a run through a salad spinner.
* It's recommended to do this right before you eat the greens, since any excess moisture can lead to decay in the fridge.
The Dfc
PRoduce Department
At the Davis Food Co-op, you can be assured that the produce you purchase is either Certified Organic or

Certified Naturally Grown

*

.

We do not carry conventional produce, as we believe in supporting sustainable farming practices that prioritize the health of our planet and its inhabitants.
*Certified Naturally Grown is a US-based farm assurance program certifying produce, livestock, and apiaries for organic producers who sell locally and directly to their customers. CNG farmers must commit to not using synthetic herbicides, pesticides, fertilizers, antibiotics, hormones, or genetically modified organisms.
All of our local farms are held to the same standards, and the Produce Department takes the time to visit them in person to witness their sustainable practices in action. By doing so, our Produce Department is able to develop a deep understanding of the produce we sell and answer any questions our customers may have to the best of their abilities.
We believe in providing high-quality, responsibly sourced produce to our community, and we take pride in supporting local farms and promoting sustainable agriculture.
More >>