Chianti & Kanaal
A wine and cheese pairing
Written by Sterling Carlton, Beer, Wine & Spirits Specialist 
Salty, sweet, crunchy, butterscotch-y, cheesy goodness. Is it Parmesan? Gouda? Neither; a Proosdij (PROUS-day) coming in at up to 45% fat by dry weight, just under the 48% dry weight fat content required for true Gouda, which it resembles closely.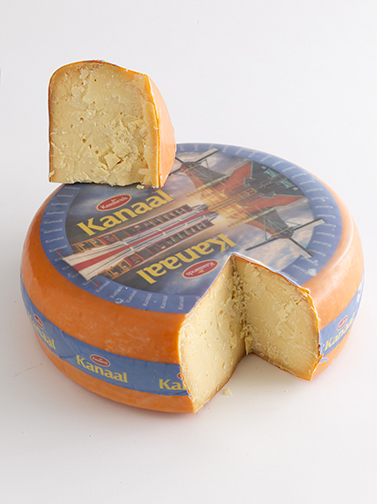 Kaaslands Kanaal from Holland, the Proosdij in question, is a semi-firm to firm washed curd cheese similar to Gouda in many respects. Slightly nutty and aged from 20 to 40 weeks this cheese develops aromas, flavors and textures very similar to Gouda, right down to those little crunchy tyrosine crystals that develop as they age, offering a nice little pop of flavor. 
The history of this cheese is a criss-crossing of cultures. In the early 1500s, a Roman Catholic Priest from Italy was living in the territories east of the Netherlands. His name was Proosd. He missed the cheeses from home and so taught the farmers raising cattle under his jurisdiction to make cheese the way they made it in Italy. What they came up with was essentially a cross between Gouda and Parmigiano Reggiano; no one would blame you for mistaking a blind bite for either.
One of my favorite pairings for the 40-week-aged Kaaslands Kanaal we carry is the Castellare di Castellina Chianti Classico. This is a far cry from the old image of the pale, weak, albeit quaffable plonk carried in those straw-wrapped liter bottles. The wine, from the Classico designated area of the Chianti DOC in Tuscany, is predominantly Sangiovese with several other native vines blended in. In an attempt to stay true to the traditional classic formula, they abstain from using Cabernet Sauvignon and Merlot which are usually permitted in small quantities to add color and structure to the blend. 
The estate occupies 80 hectares, of which 20 are committed to olive trees, with yields kept very low to maintain fruit quality and concentration. As for the grapes, they have selected clones of Sangiovese they believe to be 1. best suited for their hillside vineyards sitting at an average altitude of 370 meters above sea level and 2. for offering acid and structure. Additionally, they abstain from the use of chemical intervention of any kind in the vineyards out of a desire to work with and respect for the land. This core value is reflected on their labels which carry a different image of a bird  each year. Each featured bird is becoming increasingly rare as a result of poor human agricultural practices.
The wine is expressive on the nose with tart red fruits like raspberries and dusty tart cherries; flowers and a subtle herbal quality, like rosemary, underpin the fruit. On the palette it is tart red fruit with moderate tannins (that astringency you get along the gums from red wines) and fresh, lively acid. This helps to balance and cut through the rich lactic character of our Kaaslands Kanaal. A sip harmonizes with the saltiness of the Kanaal so well, you'll be back for another bite and sip, another bite and sip, and on until you need to go back to the Co-op for more. A truly mouthwatering pairing that the only remedy for might be another bite of cheese.
Find Castellare di Castellina Chianti Classico on Aisle 15 for $26.99
Save 10% when you buy 6 or more 750 mL bottles of wine! 
Find Kaaslands Kanaal at the Cheese Counter for $21.99/lb