Maybe you've made limeade, put mandarin oranges in a salad, or whipped up lemon-pepper chicken. You might even have used grapefruit in a vinaigrette, if you were feeling fancy. Original in their own time, these ideas have been around awhile for good reason, they're simple and tasty. In that spirit, here are some suggestions for fun, easy new ways to use citrus fruit.
Lime
Try this quick snack to ward off the after-work munchies. Place each ingredient into separate small bowls or custard cups: a couple handfuls of roasted, salted peanuts; a piece of candied ginger, chopped into smaller bits; and a few very thin slices of organic lime cut into small wedges—about 10-12 wedges per slice, peel and all. Grab several peanuts, a little candied ginger and a lime wedge and pop them into your mouth for a flavor sensation inspired by the culinary traditions of Southeast Asia.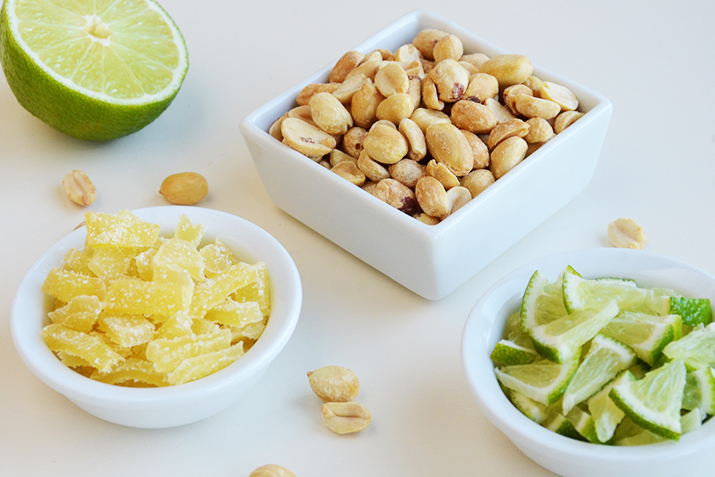 Grapefruit
Not your grandparent's grapefruit, nor the bitter power breakfast fruit of choice in the 80s. No, today's grapefruit is the greatest grapefruit to date: broiled grapefruit! Slice your grapefruit in half (horizontally, not stem to end) and sprinkle the cut side with a teaspoon of dark brown sugar and a pinch of cinnamon (if you like), then put under the broiler for 4 minutes until top is caramelized and warm, and serve! A dollop of crème fraiche, Greek yogurt, or vanilla ice cream means you can enjoy this treat anytime. 
Orange
Peel a few oranges with a paring knife, cutting off the white layer of the orange peel, cut the orange in half across the wedges, then cut into 1/4-inch slices and spread on a platter. Scatter some very thinly sliced red onion rings on top along with a handful of whole or sliced kalamata olives. Top with a swirl or two of extra virgin olive oil, a pinch of salt and red pepper flakes and parsely if you have them. This simple-to-prepare Mediterranean salad looks and tastes gourmet.
Now, meet your new favorite condiment: mojo sauce. Blend equal parts orange and lime juice with olive oil, plenty of fresh garlic and a pinch each of cumin, salt and pepper. Serve with roasted potatoes, fried plantains, beans and rice, pork, beef, chicken, shrimp, veggies, tofu, etc. etc. 
Zest
Did you know that the secret behind such citrus-flavored favorites as lemon ricotta pancakes, key lime pie and lemon parmesan pasta all comes down to one word: zest? Learning to zest your citrus is an easy way to boost flavors naturally in a variety of foods. For instant tropical flair, combine tangerine zest and shredded coconut in a tasty quick bread or muffins. Consider zesting all your citrus and freezing the zest for future use – it will keep in the freezer in an airtight plastic bag for months. 
Microplane
Hold citrus in one hand and the microplane in the other. Rub the citrus back and forth across the grates while applying very gentle pressure. Rotate as you go so you only get the colorful rind (not the white, bitterly flavored pith). Do this carefully – a microplane has very sharp edges.
Citrus Zester
Place the fine, sharp-edged holes on one end of the citrus, following the curvature of the fruit. Apply gentle pressure while you pull the zester down the side of the fruit. Repeat until the entire peel is removed and only the pith remains. This method produces longer strands of zest – ideal for dramatic garnishing. 
Box Grater
Rub citrus against the side of the grater that has those small, sharp holes. Pay close attention to the placement of your fingers or you'll get scraped up. Rotate fruit as you zest until colorful peel is gone or you've gotten enough for your recipe.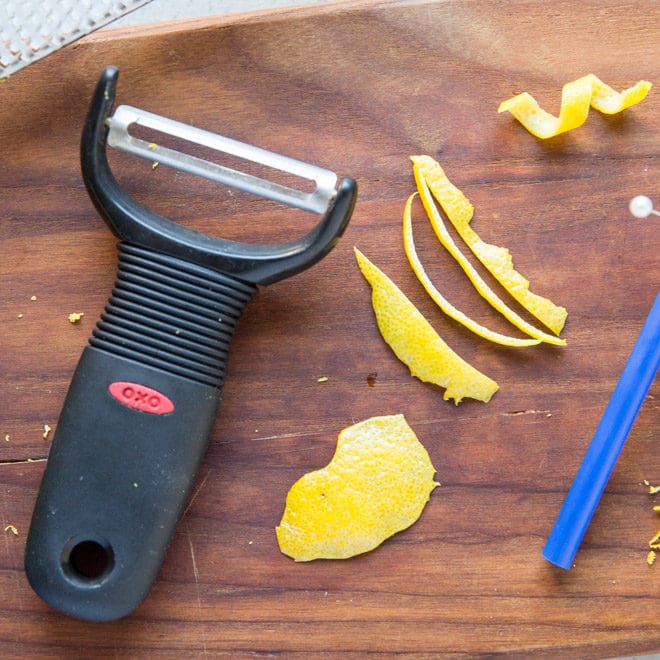 Vegetable Peeler
Place the sharp edge of the peeler on one end of the citrus and push slightly into the fruit. Pull down to the other end, paying close attention not to cut into the fruit too deep.  You want to remove as little of the white pith. Repeat this process until the entire peel is removed in strips and only the pith remains. Finely chop the peel strips to make lemon zest.
Knife
Not our first choice zesting tool, but a paring will work in a pinch. Cut one end off the fruit and place it cut-side down on a cutting board. Now use the knife to cut into the fruit, removing the peel only. Cut away any white pith you accidentally scoop up. Finely chop the pieces of peel until zest-sized. 
Blog adapted from National Co-op Grocers with permission.