As a member of the Davis Food Co-op, have you ever stopped to consider the role that the board of directors plays in ensuring the success and sustainability of the organization? ​
The board serves as the governing body, responsible for setting the vision and direction of the Co-op, ensuring it remains true to its values and mission. Think of the board as the roots of a great tree. They provide stability while carefully guiding the path its growth will follow, keeping the Co-op grounded and simultaneously reaching ever higher.
Being a member of the Cooperative's board of directors is about more than just fulfilling a leadership role. It's a chance to make a positive impact on your community and be a part of something bigger than yourself. It's an opportunity to use your skills and experiences to support the values and goals of the Co-op, and to work with others who share your commitment to making a difference.
Serving on the board also offers personal growth opportunities. You'll have the chance to develop valuable skills such as business acumen, management experience, financial literacy, strategic thinking, and teamwork. And as a thank you for your efforts, Co-op board members receive a 16.5% discount on all their purchases at the store!
So, what does it take to be a member of the Co-op's board of directors? First and foremost, it requires a commitment to the values and goals outlined in the Co-op's Ends Statement. Board directors volunteer their time and energy for a term of three years, dedicating approximately 15-20 hours per month to meetings, committees, and other Co-op-related activities. This includes attending monthly board meetings, serving on at least one committee or task force, and participating in the annual ownership meeting and retreat.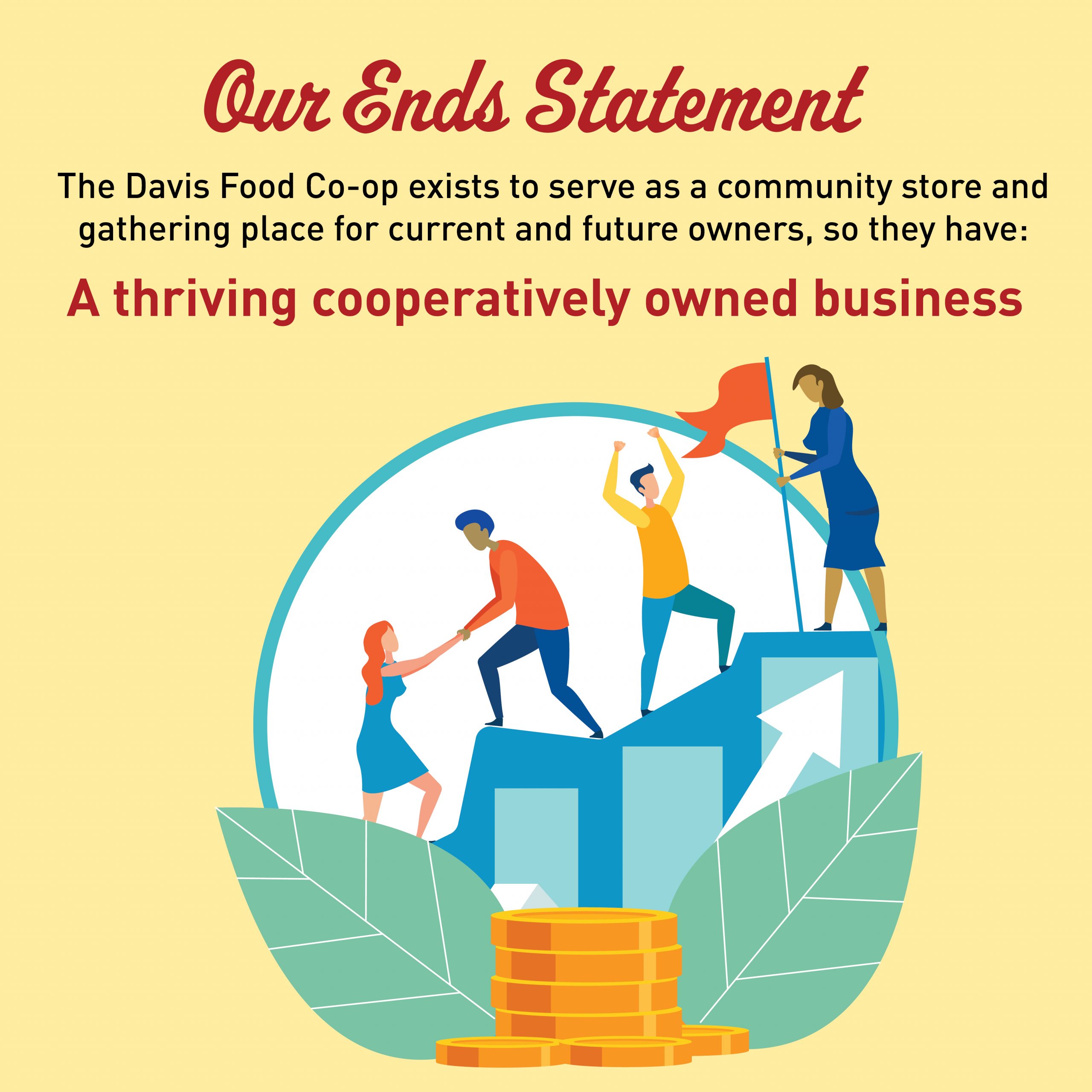 In addition to these regular commitments, board directors are also expected to participate in board training and other workshops, conferences, and Co-op events throughout the year. They should also be prepared to read and respond to email correspondence, as well as learn about the co-op movement and Policy Governance decision-making. Board directors are active and engaged members of the Co-op, and most importantly they are willing to listen to and represent the needs and concerns of the Co-op's members.
If you're interested in making a positive difference in your community and being a part of something bigger than yourself, serving on the board of directors at the Davis Food Co-op may be the perfect opportunity. It requires a commitment to the co-op's values and mission, as well as a willingness to devote time and energy to meetings, committees, and other co-op-related activities. But the rewards – both personal and for the community – are well worth it!