Edible Flower Shortbread Cookies
These sophisticated little cookies are the perfect combination of flavor and style. The dough is orange-scented and adorned with edible flowers and herbs making them a touch whimsical and very beautiful. You can make these elegant cookies for almost any occasion that calls for a touch of fanciness or just because.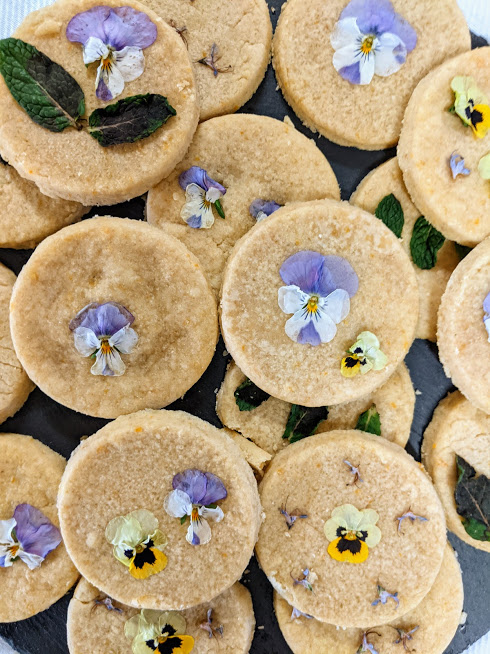 Edible Flowers
When choosing which flowers you want to adorn your cookies with, be careful to ensure they are safe to eat. Do not pick flowers which have been treated with pesticides or are growing on the side of the road. You can buy fresh edible flowers or use dried edible flowers for your shortbreads. Below is a list of common edible flowers.
arugula
basil
begonia
calendula
chamomile
chrysanthemum
cornflower
dandelion
day lily
dianthus
lavender
lilac
marigold
nasturtium
pansy
rose
rosemary
safflower
sage
violet
This list is not exhaustive. Always research whether a flower or plant is safe to eat prior to eating it as some plants, flowers, or parts of the plant or flower can be poisonous.
We chose pansy, rosemary blossoms, and mint for these shortbreads, but you can get creative! Dried pink rose petals and other dried edible flowers and herbs can be added to the dough or used as decoration.
Orange-Scented Edible Flower Shortbread Cookies
Ingredients
1 cup (2 sticks) unsalted butter at room temp
1/2 cup granulated sugar
2 cups all purpose flour
1 tbsp vanilla extract
zest from one orange
assorted fresh flowers and herbs of your choosing
Equipment
food processor
parchment paper
heavy opbject like a large book
round cookie cutter or mason jar lid
Instructions
Pulse sugar and butter in a food processor until completely combined.
Add the flour, vanilla extract, and orange zest to the food processor. Pulse 20 times and then run the processor briefly, just until the dough comes together in a ball or a few small balls.
Prepare two cookie sheets by lining them with parchment paper. Turn the dough out onto a well floured surface. Roll out dough to 1/8 to 1/4 inch thick. Cut out cookies using a round cookie cutter or mason jar lid. Make sure cookie cutter and rolling pin are well floured to prevent the dough from sticking. 
Place cookies on cookie sheets and refrigerate for at least 30 minutes. Alternately, you can freeze for 10 minutes. Preheat oven to 325 degrees F. 
While the cookies are chilling, place flowers on a sheet of parchment paper. Cover them with another sheet and set a heavy object on top to flatten. 
When the cookies are done chilling bake for 8-10 minutes. Only bake 1 tray at a time. They will not brown and will be quite soft when you remove them, but they will firm up. When you pull them out of the oven, work quickly to gently press flowers onto the top of the hot cookies. You don't need to press too hard, the heat will do most of the work. Allow to cool completely.  
Store cookies in an airtight container on your counter for 3-4 days.