Our buyers actively seek out diverse brands to share with our community. We've compiled a list of those brands owned and operated by women, LGBTQ+ folks, and BIPOC folks (Black, Indigenous, and People of Color). This list will be updated as new products hit our shelves. 
If you think a brand should be represented on this list, let us know! Email Christine at cciganovich@davisfood.coop.
Alaffia 
Alaffia was started by Founder and CEO Olowo-n'djo Tchala in Davis in 2003! Olowo-n'djo attended UC Davis and founded the company during his time there. As you may or may not know, the sales of Alaffia's full line of body washes, soaps, lotions, shampoos, and so much more, all help to fund their many Empowerment Projects. These projects ensure that African resources empower African communities with the goal to alleviate poverty and encourage gender equality. Their many Empowerment Projects include several Education-Based Projects, Maternal Health, FGM Eradication, Eyeglasses and Environmental Sustainability.⁠ ⁠ On top of that, they are also Good Manufacturing Practices (GMP) certified, Minority Business Enterprise (MBE) certified, and they have a Fair for Life fair trade product certification. They have also started women's cooperatives and collectives promoting gender equality through fair wages and celebrating the traditional skills and knowledge of West African women.⁠ We were honored with a visit from Olowo-n'djo in September 2021. 
Matr Boomie
Matr Boomie is a fair trade collection that blends the traditional artforms of India with timeless and modern design aesthetic, bringing people and cultures closer together. Their collection of jewelry, home decor and unique gifts are made from natural and upcycled materials that are sourced in a socially and environmentally responsible manner. Matr Boomie partners with over 1,500 artisans in marginalized communities throughout India to create economic and sustainable living opportunities and aims to break the gender and inequality gap by paving a path to create confidence for women artisans. This is done by investing in vocational training, literacy programs and providing fair wage opportunities to women artisans to feel empowered to reach their full potential and become entrepreneurs.
Peanut Butter & Co
Peanut Butter & Co. is an LGBTQ-owned business making peanut butter for peanut butter lovers. PB & Co supports the production of certified sustainable palm oil through RSPO (Roundtable on Sustainable Palm Oil) and is certified plastic neutral. PB & Co offset more than 220 metric tons of plastic in 2020. 
Me & the Bees Lemonade
Me & the Bees Lemonade started when founder and CEO Mikaila was just four years old. After learning all she could about bees, she adapted her Great Granny Helen's flaxseed lemonade recipe using honey instead of sugar. Mikaila started the business at youth entrepreneurial events and outside her house. More than 10 years, later the business continues to grow. A portion of the profits from each bottle goes to bee conservation. 
Dang Foods
As brothers living between NYC & Bangkok, founders Vincent and Andrew grew up eating differently. They created Dang—แดง, named after their Mom—to share uniquely Asian-American snacks with the flavors and ingredients they love. As a Certified B Corp, Dang meets rigorous standards of environmental performance and public transparency, and all of their farms follow ethical business practices.
Nutpods
When founder and CEO Madeline Haydon grew frustrated with a lack of dairy free creamer options, she turned her recipes into a business. Nutpods' froth-friendly creamers are vegan, gluten free, and Whole 30 approved. They recently became the first business in North America to use 95% plant-based renewable materials in their packaging. 
Sun Tropics
Sun Tropics is a family-owned company committed to transforming global childhood favorites, tropical fruit, and authentic street food into shareable snacks and beverages with adventurous flavors.
ALO
When co-founder Henry Chen noticed there was a lack of good tasting aloe drinks at his grocery store, he started ALO. ALO combines real fruit and vegetable juices with aloe very pulp to serve up award-winning better-for-you beverages. ALO sources its aloe pulp from sustainable farms in Thailand. 
Maya Kaimal
Maya Kaimal transforms vibrant traditional Indian flavors into modern culinary experiences. Inspired by heirloom family recipes, every meal, sauce and rice is thoughtfully crafted for flavorful gatherings around any table. Maya personally oversees the creation and curation of her collection, using only the highest quality ingredients to perfectly shape each and every one of our offerings.
World Centric
World Centric, a local AAPI-owned company, not only sells high quality certified compostable products, but they also strive to be a model of sustainability. They support grassroots organizations and nonprofits via product and monetary donations, encourage fair wages, ensure proper working conditions in their manufacturing facilities, and power their office using renewable energy. 
Casa Sanchez
Casa Sanchez Foods has been making fresh, healthy, authentic foods inspired by their Mexican heritage for three generations. The Casa Sanchez Brand was founded in San Francisco in 1924 as a Mexican restaurant by Roberto and Isabel Sanchez, who immigrated to America from Zacatecas, Mexico. In the early 1950s their children, Robert and Martha, started mass-producing tortillas for the local restaurant industry, and that business evolved into a fresh salsa and tortilla chip manufacturing and distribution company. Casa Sanchez only uses locally sourced ingredients of the highest quality.
Miyoko's Creamery
Miyoko invented the category of artisan vegan cheese. Now she's on a mission to revolutionize the entire dairy industry. Recognized by the United Nations as a 'Vegan Revolutionary' in its "The Future of Women" global initiative, Miyoko Schinner (pronounced "Me-yo-ko") is the compassionate, phenomenally vegan founder & CEO of Miyoko's Creamery. Miyoko's makes 100% vegan butter, cheese, spreads, and more. 
Araceli Farms
Araceli Farms is a woman of color-owned and -operated lavender farm! The small team currently grows 7 varietals of lavender on 6 acres in Dixon, CA. They distill their own lavender essential oils and hydrosols for a variety of high quality bath and body products. You can find Araceli Farms lotions, scrubs, and essential oil roller balls for all of your deep relaxation needs in our Wellness Department!⁠
Tata Raw
Violet, Owner of Tata Raw, has been a vendor at the Davis Food Co-op for many years now! Tata Raw's Mission is to provide convenient, mouth-watering, exciting, quality live raw unprocessed food to those who seek to remain on such a health-promoting diet.⁠ Violet started her journey with raw food when her mother became sick and bedridden. A famous raw food expert and author named Queen Afua put her on a 100% raw food diet, which ended up saving her life. "That was my first encounter with the healing powers of RAW. Since then, I've been passionate about sharing it with the world."⁠
Masala Blends
Mamta Gupta launched her company, Masala Blend, in 2019 with a vision to support the farm to fork movement while making healthy, easy cooking more accessible. Her Stockton-based company crafts an array of spice blends by hand. In addition to offering eaters traditional flavors, Masala Blend spices are gluten free and dairy free with no added colors or preservatives. They are vegan and vegetarian-friendly as well. ⁠
Cocokind
Priscilla Tsai, founder and CEO of Cocokind, built her SF-based beauty brand with a mission to provide conscious beauty for all. In addition to offering cruelty free and vegan skincare, all of Cocokind's formulations are based on research-backed ingredients in effective concentrations. Tsai's own journey began when she started researching how to best care for her sensitive, acne-prone skin and experimenting with unique ingredients like chia seed oil and sea grape. ⁠
⁠
As Founder and CEO, Tsai has made normalizing all skin types a priority. She says working to normalize real skin is "a constant celebration and acceptance of diverse skin tones, textures, and everything that we encounter when it comes to skin!" Cocokind will never use retouching to hide real skin and will always strive to make clean skincare accessible by keeping it affordable. ⁠
⁠
Cocokind recently launched new sustainability efforts including auditing their entire supply chain looking for ways to reduce the company's carbon footprint and adding sustainability information to each product's packaging. In addition to sustainability efforts, Tsai has made supporting other women-owned businesses a priority. Cocokind's Impact Foundation "provides financial grants to female entrepreneurs in health, wellness, and sustainability industries who are focused on creating social impact through business". 
Coolhaus
When Natasha and Freya founded Coolhaus in 2009, they did not feel represented by any of the dessert brands on shelves… not as Millennials, not as women, and definitely not as LGBTQ+ women. They decided to be the brand––from the product to the culture––that they wanted to buy. They bought a rundown postal van masquerading as an ice cream truck on Craigslist for $2500 dollars and towed it to Coachella Music Festival using a triple A platinum membership – which included one free 200 mile tow! After debuting to the crowd of 100,000, the brand went viral.⁠
⁠
They're proud to have turned those scrappy origins into the top women-led ice cream company in the nation with sammies, cones, pints and cups (in dairy and dairy-free!) They remain true to the authentic origins of the brand: represent positive change, push the envelope for the future, and create high-quality ice cream and plant-based novelties for all to enjoy. They hope Coolhaus inspires the next generation of diverse founders, entrepreneurs, and creators to live out their dreams.⁠
Siete
Meet the Garza's, the family behind Siete Family Foods! Diagnosed with multiple debilitating autoimmune disorders as a teenager, Co-Founder and President Veronica Garza began making grain-free tortillas for her family, who had adopted a low-inflammation diet along with her. According to Garza, "I knew we had something really special when my Grandma Campos told me that my tortillas tasted better than the homemade flour tortillas she'd made for decades!" ⁠
⁠
Garza siblings Veronica, Miguel, and Aida founded Siete Family Foods because they're "passionate about making and sharing real food, gathering together in authentic community, and advocating for healthier lifestyles among Latino families." As a mission oriented company, the Garza's built Siete Family Foods on 4 principles: to boldly build the leading healthy Mexican-American food brand; embody a "juntos es mejor" culture: value humility, foster diversity, love people always; operate with a family first, family second, business third attitude; and to positively impact the lives of underserved communities through education, entrepreneurship, and wellness.⁠
Tia Lupita
Hector Saldivar, knows that Food is Love. His mother, known affectionately as Tia Lupita ("Aunt Lupita" in Spanish), filled the family kitchen with the love, laughs and tasty eats that brought everyone together. Tia perfected her own family hot sauce recipe to create a delightful balance of heat and flavor, coveted by anyone lucky enough to get a taste. When Hector moved to San Francisco, California, Tia would ship him bottles of her hot sauce, to make certain he always had a taste of home with him. Hector shared the love, and soon friends would come knocking, looking for the next delivery of Tia's irresistible hot sauce. Too good to keep to himself, Hector returned to Mexico and asked for his mother's blessing to bottle the sauce for all to enjoy.
Red Boat Fish Sauce
After moving to the United States, Cuong Pham was hungry to recreate the flavors of his childhood in Saigon. But not even the vibrant Asian markets of San Francisco offered the intensely fragrant first-press fish sauce, nước mắm nhi, that Cuong remembered from Vietnam. So in 2011, Cuong decided that if he couldn't find it, he would make it — and started Red Boat Fish Sauce. Returning to Vietnam, Cuong expanded a small, family-run facility on the tropical island of Phú Quốc. With its clear waters and traditional fishing communities, Phú Quốc has long been renown for producing the world's greatest fish sauces. Cuong partnered with expert fishermen and continued a centuries-old fermentation tradition. 
Pipcorn
Pipcorn was born in 2012, when Jeff Martin was helping his sister, Jen move apartments. With everything packed up except a bag of tiny heirloom popcorn kernels that Jen found in the Chicago health food store where she worked, they popped batch after batch of the most delicious popcorn they'd ever had! They liked this one so much, they tracked down the Indiana farmer who grew it from his family's heirloom seed stock. Together with Jeff's wife, Teresa, they created a new company, Pipsnacks.
Numi
Numi was founded in 1999 in Oakland, California by brother and sister Ahmed Rahim and Reem Hassani with a vision to share the transformative, healing power of tea with the world. They named their company after the steeped dried desert lime they drank in their early childhood in Baghdad, Iraq. The drink symbolizes hospitality and community (numi means "citrus" in Arabic). Creative, conscious change-makers, they have introduced little-known herbs and teas to the United States, while advancing human rights and sustainable causes around the globe.
Nona Lim
Founder Nona Lim grew up in Singapore, a place where everyone is a passionate foodie, according to Lim. After working in London she moved to the Bay Area to fence competitively. She became a Certified Nutrition Consultant in order to learn how to eat for her athletic lifestyle. In 2014, the brand Nona Lim was born to combine Lim's new holistic understanding of food as medicine and the flavors of her childhood. Nona Lim offers heat-and-sip bone broth cups, noodles, and more. 
Cado
Cado is a family owned diary-free avocado-based ice cream. Enjoy a scoop, add some fruit or make a superfood sundae! They believe coming together with family and friends over food and drink should be a life-enhancing experience. They were inspired to create a frozen dessert that tasted just like ice cream, but with better for you ingredients. It takes dedication to establish healthy habits as a family, but the long-term benefits are significant.  The Cado family hopes their products encourage and support you and your family to lead an active, balanced and rich life.
Dufour Pastry Kitchens
Dufour Pastry Kitchens, founded in 1985, is a women-owned business with a reputation for developing both traditional and trend-setting products has been unparalleled. Dufour products consistently win awards, receive industry accolades and garner passionate press attention. All of their products are made by hand using the freshest and finest ingredients and are shipped nation-wide frozen and ready-to-bake.
Home Free
There is a lot to say about this woman-owned, B-Corp, Non-GMO, Organic, Allergen-Free, Vegan, Kosher, and award-winning business. Every ounce of these cookies contains at least 1/2 serving of whole grains; so you can feel safe and healthy while indulging. 
My Brother's Salsa
My Brother's Salsa is women owned and operated. You can find lots of great photos of the owner and CEO on their Instagram @mybrotherssalsa. This salsa is made in very small batches with minimal, easy-to-read ingredients!
NuttZo
In desperation to find a plant-based protein source for her two adopted picky-eating sons, Danielle took to the kitchen and blended a variety of nuts and seeds to make a delicious protein source for them. Voilà, the nut and seed butter brand 'NuttZo' was born! NuttZo's mission to spread health and happiness all over the world. While launching NuttZo, they created a non-profit that remains core to who they are today.  Every sale of NuttZo supports Project Left Behind, helping orphaned and disadvantaged children in Peru and India.
Purely Elizabeth
Elizabeth went to a holistic nutrition school, and with a simple goal, "Start a natural foods company", Purely Elizabeth was born.
Purely Elizabeth products are non-GMO project verified, certified gluten-free, certified made with organic ingredients, certified vegan, contain no artificial additives or soy, and are made with innovative, nutrient-rich ingredients that add delicious flavor and texture, like ancient grains, coconut sugar, raw virgin coconut oil, mct oil and reishi. 
Sweet Loren's
After beating cancer in her early twenties, founder/CEO Loren Brill made it her mission to eliminate processed foods from her diet. Unable to find great tasting cookies made from clean ingredients, she developed her own.
Try new things. Work out. Experience the world. And treat yourself. Sweet Loren's was born out of Loren's sweet tooth and frustration with existing brands and ingredients.
Every product they make is accessible and made from only clean, Non-GMO, gluten-free and plant-based ingredients. And, most importantly, every product tastes incredibly good.
Sweet Nothings
Sweet Nothings in a woman-owned business that creates, spoonable smoothies that are a mess-free snack, wholesome breakfast, and/or satisfying dessert. They are Plant-based, only fruits, nuts, & seeds, organic, no added sugar, gluten-free, no preservatives, no artificial flavors or colors, and Kosher.
Mother-in-Law's Gochujang
As an avid food and wine lover, founder, Lauryn Chun was inspired by the beauty of Korea's handcrafted tradition of kimchi as a fine food that belongs in the ranks of fine fermented foods like wine, cheese and beer traditions.
Koia
As the co-founder of Koia, a healthy, delicious, convenient plant-based nutrition drink company, Maya French went on to be part of the 2018 Forbes 30 under 30 class. She is a fitness enthusiast and wants to spread the importance of plant based nutrition with Koia's consumers.
GT's Kombucha
As the maker of the original American Kombucha, GT's remains one of the most innovative and delicious bubbly beverage brands. As a proud Gay man, Owner GT Dave has always used his platform and resources to support the LGBT community.
Cowgirl Creamery
Started by married couple Sue Conley and Peggy Smith, Cowgirl Creamery cheeses are made with organic, pasture-based cow's milk right here in Northern California.
Green Sprouts
Founded in 1982, Green Sprouts has been mother-daughter owned and operated for over 35 years, with a mission to provide healthy and practical products for the well-being and whole development of babies and children, along with resources for parenting naturally. Green Sprouts employs over 65+ team members in Asheville, North Carolina – with over 60% of top management positions filled by women – and has been a supporting member of the Women's Business Enterprise National Council (WBENC) for over 10 years.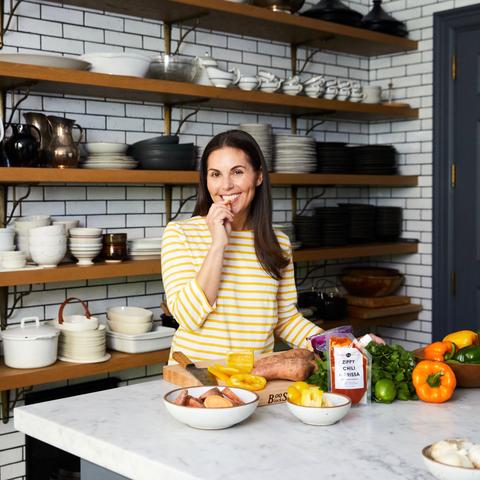 Haven's Kitchen
Haven's Kitchen has helping people cook, not just follow recipes, since 2012, when Alison Cayne (founder a& CEO) opened the Haven's Kitchen Cooking School in NYC.  Haven's Kitchen is owned and operated by a 100% women top management staff; find their pictures and titles at https://havenskitchen.com/pages/team
A Dozen Cousins
Growing up in a melting pot of Creole, Caribbean and Latin American cooking gave Ibraheem Basir the passion to create authentic cultural recipes that are made with wholesome ingredients.
Brazi Bites
When founder of Brazi Bites, Junea, moved to the U.S. from Brazil, she desperately missed her family's Pão de Queijo, a scrumptious little bun-like cheese bread made from simple ingredients. So, she called her mother in Brazil and asked for the family recipe. After making the recipe and sharing it with others, she knew that this was something that the entire U.S. would love. After an appearance on the show Shark Tank, that dream became a reality!
Jyoti Natural Foods
Jyoti Gupta started Jyoti Natural Foods in 1979 as a pioneering venture to produce, package and supply high quality, nutritious Indian Foods to all who were familiar with Indian Cuisine; and to introduce the wonderful tastes, aromas, and virtues of Indian home-style cooking to the unfamiliar.
Catalina Crunch
After being diagnosed with diabetes and switching to a Keto diet, Catalina Crunch founder Krishna Kaliannan realized how much he missed the cereals and snacks he grew up with. To satisfy his cravings he created Catalina Crunch, a line of snacks and cereals without the excess sugar and empty carbs!
Star Anise Foods/Happy Pho
Thao and Karen met while hiking in Hong Kong and formed a quick friendship that led to them imagining what owning a business together would look like. They have a  of love making and sharing food with others but felt like they hadn't found that special, tasty healthy noodle that they craved.  They decided to make it themselves by creating Star Anise Foods and sharing their Happy Pho with the world!
Mylk Labs
For almost a decade, Mylk Labs founder, Grace Cheng, had been eating oatmeal every morning. Her passion for healthy living and good food, and the knowledge she gained as a USC Alumna, inspired her to create something bigger– something that could simplify and fuel the lives of busy individuals like herself. The mission of Mylk Labs is to share wholesome food that nourishes and fuels the body without compromising flavor, nutrition or convenience.
Liberated

Specialty

 Foods 

Liberated Specialty Foods was founded in early 2015 in the quiet countryside outside of the town of Madison, Alabama by Stacey Schlaman, a mother of two. Stacy was drawn to Paleo, Gluten-Free, and Dairy-Free baking to accommodate her daughter who suffers from a number of conditions including Celiac's disease and psoriasis, and improve the health of all her family.  

One day, after a busy week where she had spent all day in the kitchen preparing food to take on vacation, she resolved to find a way to make it possible for others to be able to eat the way their body needed them to, and be able to live a "normal" life. A few weeks later she purchases an old church in the country and began renovating it for commercial baking that will make everyone's lives easier.  
Caulipower
As the mom of two boys with Celiac – an autoimmune disease leaving their bodies unable to process gluten – Gail tried desperately to find nutritious, gluten-free options that weren't filled with fat, sugar, salt and calories.
She discovered cauliflower pizza and it all tasted fine, but it looked awful, the kitchen was a disaster and it took 90 minutes just for the crust!
Sure their were others in the same position, Gail left her job to create CAULIPOWER.
Tosi
This mother-daughter team's goal from the very beginning was to provide nutritious products to support holistic health. When they started in 2012, they found that people were constantly falling off their path to wellness with poor snack choices.
They realized that there was a need for clean, nutrient-dense snacks, so they got to work, and Tosi SuperBites were born.
Bhu
Laura started Bhu because she, admittedly, had a serious problem with sugar. She wanted to keep that party in your mouth experience while limited sugar and using organic and healthy ingredients. Make people's lives happier and healthier by helping them transition away from sugar.
Bhu Foods offers exceptional, healthy, low sugar, high fiber, clean label, delicious products while exceeding the expectations of their customers, honoring and meeting the needs of their employees and our community, and safeguarding the environment.