It's Hispanic Heritage Month
Celebrated each year from September 15th through October 15th, Hispanic Heritage Month recognizes the cultures, histories, achievements and contributions of Hispanic Americans. September 15 was chosen as the starting point for the commemoration of Hispanic Heritage Month as the anniversary of the Cry of Dolores (1810), which marked the start of the Mexican War of Independence. It was this moment that eventually led to independence for the Spanish colonies that are now recognized as the countries of Mexico, Guatemala, El Salvador, Costa Rica, Honduras, and Nicaragua. For a great list of resources related to Hispanic Heritage Month, we encourage you to visit this page here from the National Museum of the American Latino.
For the last few years, we've asked our staff to share their favorite family recipes with our community during this month. You can find these recipes at our registers over the next few weeks or collected below for your enjoyment. All of the ingredients for these recipes can be found at the Co-op, excpet where noted.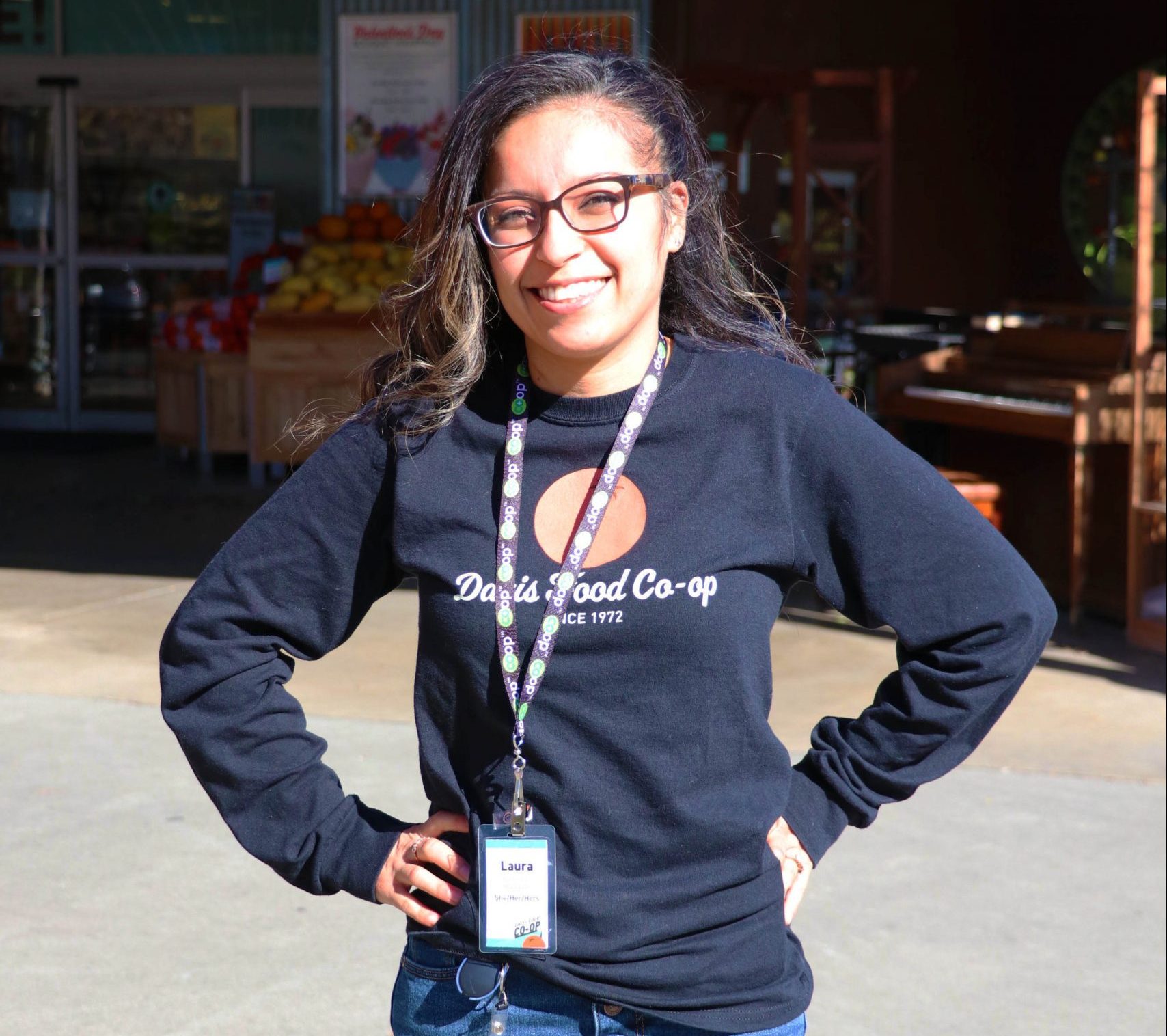 Laura Sanchez, General Manager
Ensalada de Nopales
"This is my mom's recipe for a nice salad, healthy and refreshing recipe. Perfect for summer barbecues. Buy Nopales that are already cut." -Laura S. 
Bag of cut nopales, approximately ½ pound (find at La Superior in Woodland)

2-3 fresh chopped tomatoes

1 small onion, chopped 

1 small bunch of fresh cilantro, chopped

The juice of a lemon 

½ tbs of olive oil

A pinch of oregano, crumbled

Salt and pepper to season

For serving: queso fresco, chips or tostadas
In a pan with water, boiled the nopales with a small amount of salt and onion for about 20 minutes. Turn off the pan and rinse the nopales with cold water. Let them sit until the nopales cool off or rinse them with ice water.
In a bowl, mix the nopales, chopped tomatoes, chopped onion and cilantro. Set aside. 
In a small bowl mix the olive oil, the lemon juice, the pinch of crumbled oregano, salt and pepper. 
Put the olive oil and all the ingredients with the nopales. Refrigerate for about 1 hour and serve. You can add crumbled Mexican fresh cheese when serving. You can serve them on tostadas or eat them with corn chips.
2 pounds of beef, cubed
1 28-oz. can of Las Palmas Red Chile Sauce
½ white onion, sliced
1 tablespoon olive oil
1/4 teaspoon cumin
salt and pepper to taste
In a deep pot over medium heat, heat the olive oil. Sauté the onion until soft and translucent, but not brown. Remove cooked onion from the pot.
Add the meat and brown nicely. Once the meat is brown, add the onion and the can of red chile sauce. Let it simmer for about 20 minutes, then transfer to the crock pot.
Cook in the crock pot for 5 hours on high or 7-8 hours on low. Serve with red or white rice (recipe below).
1-1 1/2 lbs chicken breast cut into thin strips (about the same size so they cook evenly)
Olive oil, about 2-3 tbsp
1 tsp salt (maybe 1 and 1/2 tsp if you like your food on the saltier side)
1/2 tsp dried oregano
1 tsp cumin
1 tsp garlic powder
1/2 tsp chili powder
1/2 tsp paprika
Limes
For serving: tortillas, guacamole, sour cream, shredded cheese
Mix olive oil and spices to make marinade.
Add chicken to the marinade, mix, and marinate at least 1 hour (in fridge).
Heat pan, add a little olive oil, once hot add chicken and cook about 8 mins (turning about half way so they cook evenly) until no longer pink. Also, cooking time depends on how thick the chicken strips are, thinner = less time. Once done cooking squeeze some fresh lime if you like.
Serve with tortillas, guacamole, sour cream and/or shredded cheese.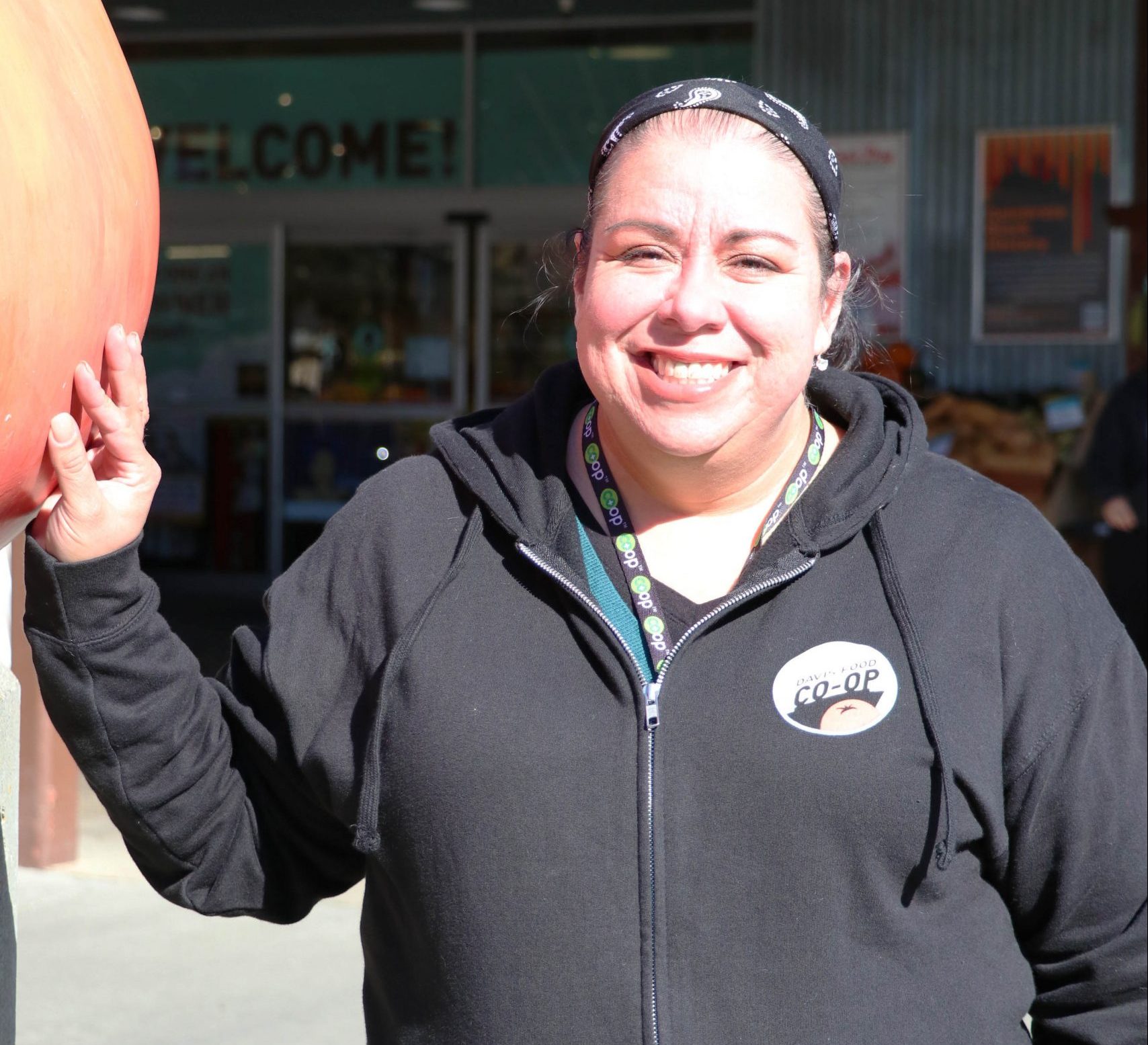 Briza Ramirez, Store Support Manager
8 oz. package of fideos (You can substitute with thin spaghetti, vermicelli noodles, or angel hair pasta broken into 1inch pieces if you cannot find fideos – we do carry fideos at the Co-op)
3 very ripe tomatoes (Roma or Plum but any tomato will work)
¼ white onion
1 clove of garlic
1 cube of chicken bouillon or equivalent (you can also use a vegan vegetable cube)
6 cups of water or broth
Salt to taste
Vegetable oil
Cut the tomatoes in half. Puree the tomatoes, onion, bouillon, 2 cups of water/broth and garlic in the blender. Set aside.
In a pan, preheat 3 tbsp. of vegetable oil to medium-hot. Add the noodles and stir to coat with oil. Continue stirring until the fideo pasta has turned golden brown and a few strands have turned deep brown. Browning the noodles adds depth of flavor to the soup. When the noodles are browned, add the reserved mixture and add the remaining 4 cups of water/broth and stir. Bring the soup to a boil at medium heat and then cover with a lid and cook for 10 minutes or until the pasta is soft but not mushy. Adjust with salt to taste.
You can garnish with queso fresco, avocado cubes, and my favorite, pickled jalapeños.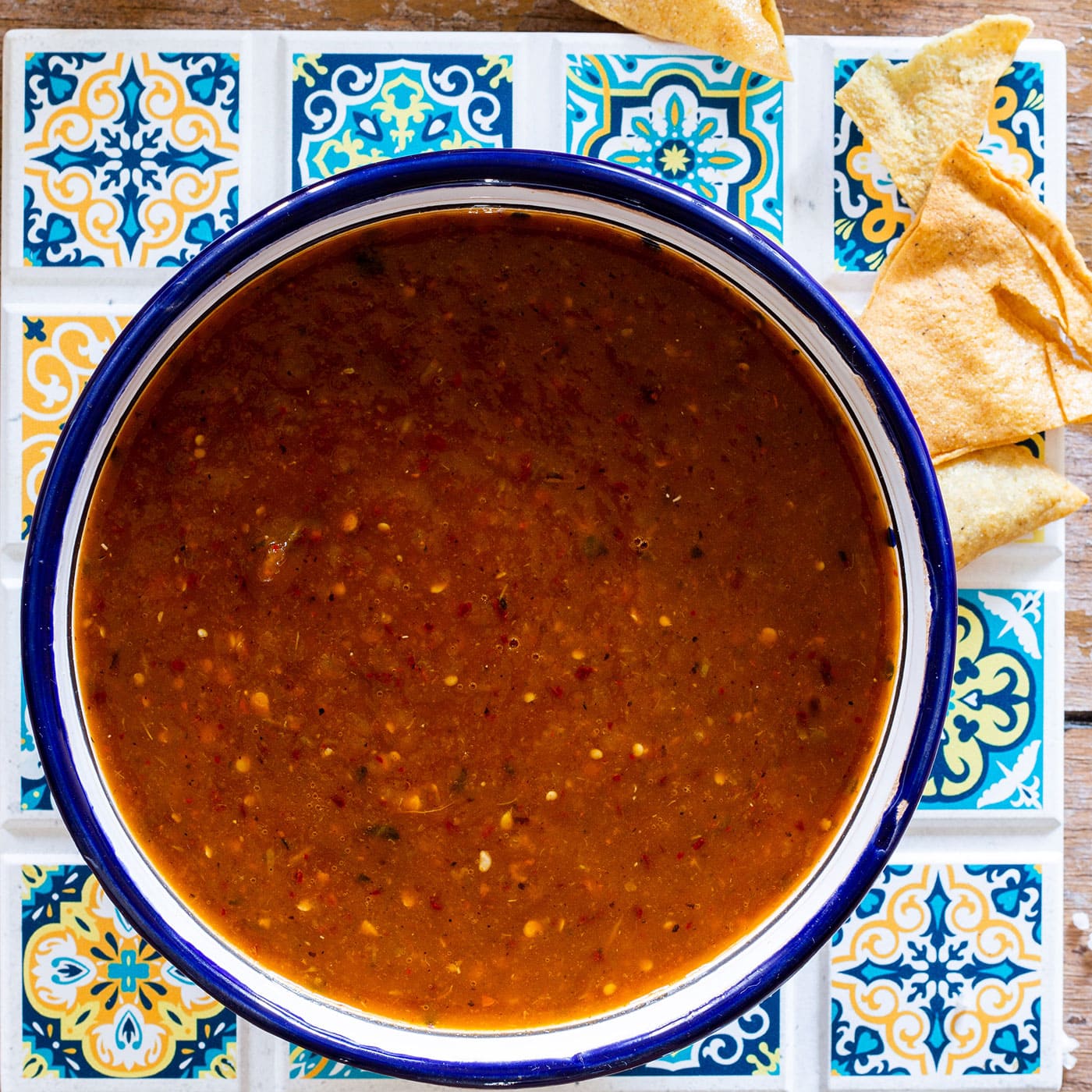 ¾ lb of tomatillos (husks removed and washed)
3 garlic cloves, peeled
½ white onion
10 Chile de Arbol peppers for a spicy sauce, 5 if you want it mild
½ teaspoon salt or to taste
Place tomatillos, onion and garlic in a medium heat skillet. Keep turning your tomatillos and garlic to get an even roast until they are soft and roasted, about 18 to 20 minutes. However, garlic cloves will roast faster so remove them and add to your blender or food processor after just a few minutes.
In a separate skillet or over the open fire, toast the chile de arbol peppers as evenly as possible. It takes about a minute. Make sure to not burn them or your sauce will have a bitter taste. Remove the stems once they are roasted..
Process tomatillos, onion, peppers, garlic and salt in a blender until a slightly chunky sauce forms. You can add some water in case it is needed and if you want it on the smoother side. This salsa will last up to 3 days refrigerated in an airtight container.
2 1/2 lb stewing pork
2 lb pork neck bones (call ahead and ask for the Meat Department to determine availability)
8 cloves fresh garlic
1/2 medium white onion, finely diced
2 cans hominy 28 oz, you can use yellow or white (but if you can find purple, you should give that a try!)
3 Chiles Anchos, deveined and soaked in hot water until softened
1 very ripe tomato
2 Chiles de arbol, toasted (optional)
salt 
Garnish
1/2 sm green cabbage, finely sliced
½ med onion, finely diced
1 bunch radishes, round slices
Limes, cut into wedges
Tostadas
Hot sauce (Chile de arbol based)
Trim off excess fat of stewing pork and pork neck bones. Cut into 2-3 inch pieces if possible. Place in a large bowel with cold water and rinse well.
Place meat in a 6qt pan and cover with cold water. Water level must be approx. 6 inches above submerged meat. Add onion, 4 garlic cloves and salt (1 to 2 tablespoons) to the pot.
Bring to a fast and hard boil,then reduce heat to a gentle boil. After approx. 15 min of gentle boiling. remove and scoop off the gray foam that has appeared on the top. And taste for salt, if more is needed, add to your taste and boil the meat for 1 to 1 ½ hours or until meat is tender.
Open the cans of hominy and drain the liquid. Give it a quick rinse, reserve half a cup of the hominy, and add the hominy to the broth.
In a blender mix the chiles anchos, the remaining 4 garlic cloves, some salt, the ½ cup of hominy, 1 cup of the meat broth and the tomato. If you want your pozole spicy add the chile the arbol as well, otherwise you can omit it. Blend until smooth. Be careful when blending with the hot broth as this can cause pressure in the blender.
Add the sauce into the pot and let everything simmer for 30 more minutes.
Serve the pozole in a bowl, and garnish with cabbage, onion, radishes. Serve on the side lime wedges and tostadas.
Christine Ciganovich, Marketing Specialist/cooking class instructor
Spanish Rice
In truth, this is Christine's great-grandmother, Ofelia's, recipe.
12 oz. long grain white rice
1 tablespoon avocado oil
6 oz. tomato sauce
1 ¾ cups no salt veggie broth
½ teaspoon salt
½ teaspoon garlic salt
½ cup slices green onions (green and white parts)
Combine rice and oil in a pot with a well fitting lid. Heat over medium-low heat, stirring very frequently, until the rice is turning golden brown and smells nutty.
Add remaining ingredients and stir. Turn heat up to bring to a simmer. Once bubbling, put on the lid, turn heat all the way to low, and cook for 15 minutes. After 15 minutes, turn off the heat and leave the lid on for an additional 10 minutes to finish steaming. Fluff with a fork and serve.
1 1/2 tablespoons avocado oil
12 corn tortillas, cut in half and then into 1-inch strips
4 green onions, chopped
38 oz. Las Palmas Red Chile Sauce (1 large can plus 1 small can)
2 cups shredded Jack and cheddar cheeses
For Serving: cotija cheese, sour cream, avocado slices, fried eggs, black olives, pickled jalapeno
Preheat the oven to 325 degrees F.
Heat oil in a deep skillet over medium-high heat. Add tortilla strips and fry until the edges are lightly browned and crispy. Pour sauce over tortilla strips. Add green onions and 3/4 of the cheese. Stir to ensure all tortilla strips are evenly soaked with sauce and the cheese and green onions are well incorporated.
Transfer to casserole dish. Sprinkle remaining cheese over everything. Bake for 15 minutes, or until cheese is melty.
Serve as is or with all the toppings.