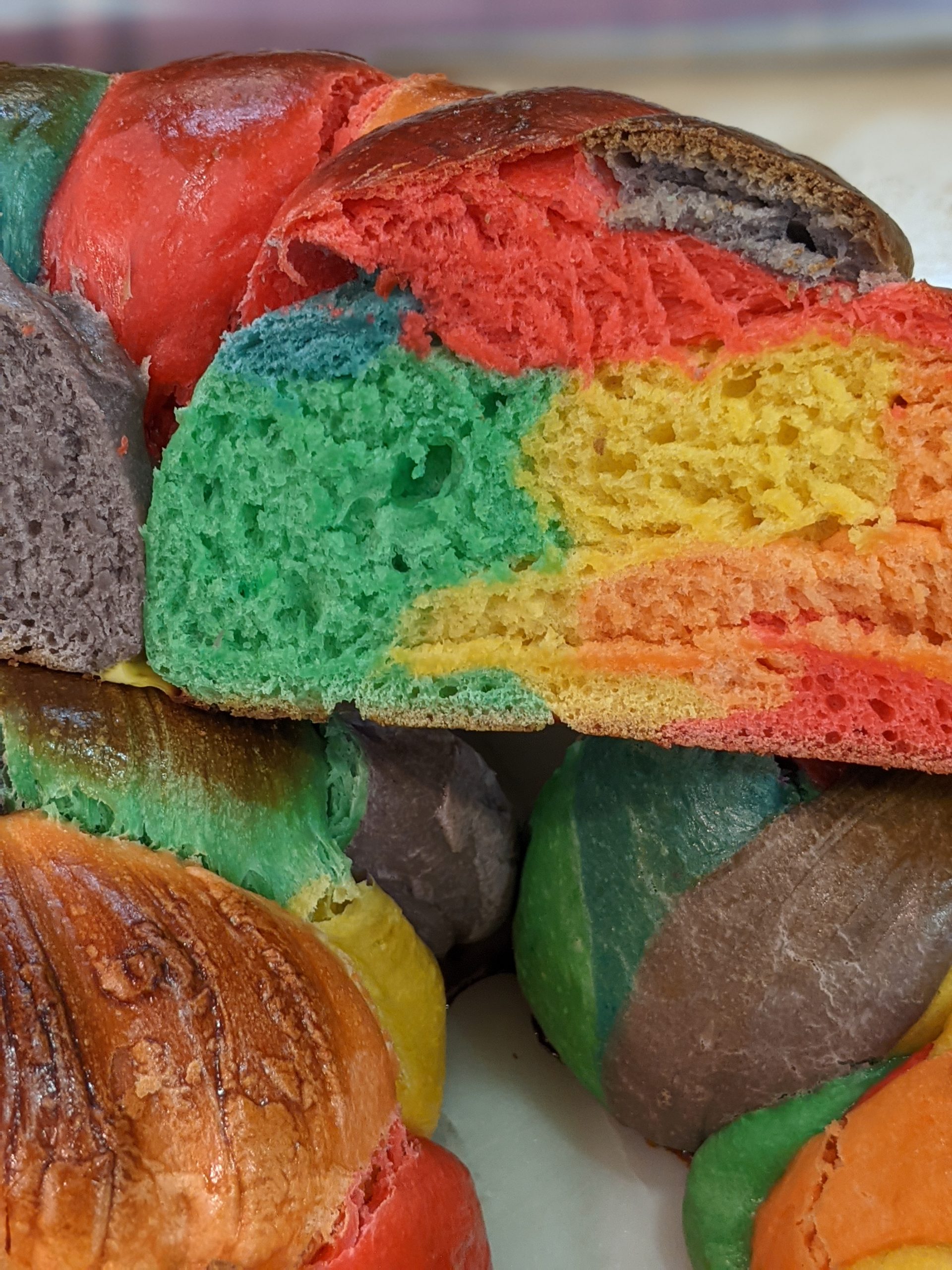 Rainbow Challah Bread
2 1/4 tsp active dry yeast
3/4 cup warm water (110 - 115 F)
1/2 cup sugar
1 large egg and 3 yolks (plus one for glazing)
1/4 cup vegetable oil
1/4 cup honey
3 3/4 -4 1/2 cups of flour (all purpose or bread flour)
1 1/2 tsp kosher salt
food coloring
This recipe takes about 4 hours including the wait time for the dough to rise, plan accordingly!
Instructions:
In a mixing bowl, gently whisk yeats, warm water, and 2 tsp of sugar. Let sit for 10 minutes or until frothy. If it doesn't get frothy, it means either your yeast has gone bad or the water was too hot.
Add remaining sugar, eggs, oil, and honey. (pro tip: measure oil first, then honey in same measure cup!) Mix well.
Gradually add flour and salt. Once it begins to thicken, switch to a hook attachment or knead with your hands. You may not need all 4 1/2 cups of flour. The dough should be soft and very slightly sticky (from the honey). No need to knead now, you will knead plenty when adding color.
Now add color! separate the dough into 6 equal sections, weighing it if you want it exact. Using a dye-safe surface (and optional gloves), flatten each section slightly and add 5-6 drops of food coloring in the middle. Knead until well combined. This will take 4-7 minutes per section.
Place the dough in a greased bowl and cover. It can all go in at once if you don't mind a little color mixing. Use plastic wrap or separate bowls to keep all the colors separated. Place in the oven with the light on, and let rise for 2-3 hours or until doubled in size.
Lightly grease your counter with vegetable oil. Roll each section of the colored dough into 18 -14 inch strands. Lay alongside each other and pinch together at the top. Now it is time to braid! (watch the video on our Instagram).
Assign each place a number. In the photo below the red start in position 1 and purple is in position 6. As you braid the colors will move positions (1-6). Step 1: 6 to 1 (purple to far left). Step 2: 2 (which is now red) to 6. Step 3: 1 to 4. Step 4: 5 to 1. Step 5: 6 to 4. Step 6: 2 to 6. Step 7:1 to 4, you might see a pattern now. After step 5, repeat steps 2-5 until you reach the end. (Note: I make a mistake in the first round of this is the video, and correct it in a weird stop. See if you can spot the mistake!) Curl the ends under on both sides, and keep the traditional Challah Shape, or if it ended up a little long, like mine, make a wreath.
Place on a greased baking sheet, cover loosely and let rise for 45 minutes to an hour in the oven with the light on.
Remove dough and preheat over to 350 F.
Mix one egg yolk and a tablespoon of water. Generously brush dough with egg wash.
Bake for 30 – 35 minutes, rotating pan halfway through. If the Challah is browning too fast, tent with foil.
Thanks for baking with us!