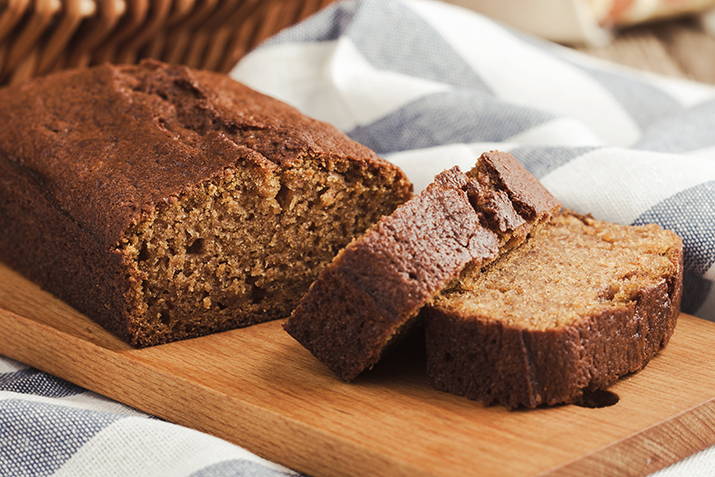 Spiced Winter Squash Bread
Squash is so moist and flavorful that a bread like this doesn't need much fat to taste rich. This is perfect right out of the oven, or sliced and toasted the next day.
1 1/2 cups whole wheat pastry flour
1 cup unbleached flour
1 teaspoon baking soda
1/4 teaspoon salt
1 teaspoon cinnamon, optional
1/2 teaspoon allspice
1/4 teaspoon nutmeg
1 cup butternut squash, pureed*
1 cup brown sugar
2 large eggs
1/2 cup fat-free yogurt
1/4 cup vegetable oil
Preparation
Preheat oven to 350°F. Oil a loaf pan. In a large bowl, stir together flours, baking soda, salt, cinnamon, allspice and nutmeg.
In a medium bowl, whisk the squash puree, brown sugar, eggs, yogurt and oil until smooth. Pour the squash mixture into the dry mixture and stir just until combined.
Scrape the batter into the loaf pan. Bake loaf for 50-60 minutes, until a toothpick inserted in the center of the loaf comes out with no batter on it. Cool on rack for at least 10 minutes before slicing. When completely cool, wrap tightly and store in the refrigerator for up to a week.
* Squash Puree
Preheat the oven to 400°F.
Halve the squash, scoop out the seeds, and place it cut side down on an oiled sheet pan.
Roast at 400°F until tender when pierced with a paring knife.
With a metal spoon, scrape out the cooked flesh and puree in a blender or food processor or mash with a potato masher until smooth.