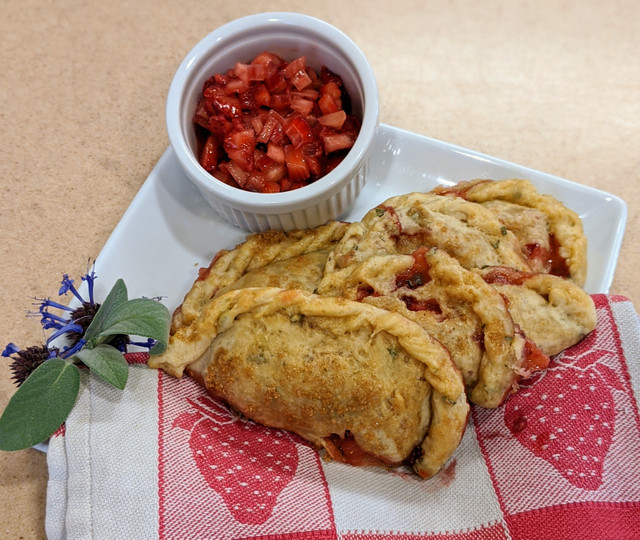 Strawberry Rhubarb Sage Empanadas
Savor Spring's bounty with the strawberry and rhubarb hand pies.
3 cups all purpose flour
6 tablespoons sugar
Pinch of salt
8 ounces unsalted butter
2 eggs
2 tablespoons of cold water or milk
3 tbsp diced sage
3 cups rhubarb, diced
3 cups strawberries, diced
1/2 cup sugar
2 tbsp lemon juice
1 tbsp cornstarch(or tapioca starch)
1 egg, yolk and white separated and lightly whisked
Coarse sugar, such as dermera or turbandino, for sprinkling on top
Crust:
Combine the flour, sugar, and salt in a food processor or by hand.

Add the butter, egg, and water/milk to the flour mixture. Combine until it comes together into a texture like cornmeal. Gently incorporate the diced sage into the dough by hand. Place the dough onto a lightly floured surface.  

Knead the dough for a few minutes until it is smooth. 

Separate the dough into two balls and flatten them slightly into thick discs. Allow the discs to rest in the refrigerator for at least 30 minutes, this keeps them from softening too much. You can freeze the dough and use it at a later date if you so desire. 
Filling:
Combine the strawberries, rhubarb, sugar, yuzu juice, cornstarch, and sugar in a large mixing bowl. Let rest for an hour covered in the fridge. 

Drain the liquid from the mixture. Preheat the oven to 375F.

Brush the edges of the prepared empanada discs with egg whites, to help them stay sealed, and then place the drained mixture into the center of your prepared empanada discs.

Carefully fold over the discs and seal the edges either by pressing with a fork or twisting with your fingers. You want to make sure that the empanadas are not overstuffed or else they will be quite difficult to seal. 

It is best to let the empanadas rest in the fridge for at least 30 minutes after assembling them, this will allow the edges to bond together and keep them from leaking too much while baking. When you are ready to bake them, brush the tops with a whisked egg and sprinkle coarse sugar over them. 

Bake the empanadas in an oven that has been preheated to 375F for approximately 18-25 minutes until they are golden brown on top. Enjoy!