We recently had the chance to speak with Martin Pohl from Beaver Creek Vineyards about why biodynamic wine is more than just the latest trend in the wine industry. Beaver Creek Vineyards is located in Lake County, California, and produces biodynamic wines. Martin Pohl is the owner and winemaker of Beaver Creek, and his overriding philosophy is to work with nature, not against it.
About 50 sheep roam amongst the vineyard's rows, a flock which Pohl herds himself. He views himself as a steward of the land on which his vineyard rests. He has faced various challenges in protecting it, "There have been many hits, Lake County suffers from droughts, there was the fire in 2015."
Despite these setbacks, he still sees his plot of land as nearly perfect. "It's a perfect place because it's dry, so there's barely any pest problems." Other regions, such as those on the coast, face greater pest problems because of the humidity. "They almost have to use pesticides," Pohl said. "Here it's so ideal, I don't have to spray for mildew, we don't use any chemicals, it's completely clean."
His philosophy of non-interference extends from the vineyard to the wine barrels as well. "None of our wines have any sulfites added," Pohl said. This is important to Pohl because he views natural wines as a living system. "Think of it kind of like the human immune system," Pohl said. "When you add sulfites you compromise that system. They might prolong the shelf life of wine but they shorten its lifespan"
He has hopes for expansion sometime in the near future. He split with his partners in 2012 and will soon be the sole owner of the vineyard.
How did you become so interested in organics and biodynamics?
"It starts with a lifestyle, right? For the last 10 or 15 years, I always feel like I've been ahead of the curve. I started my organic lifestyle around 20 years ago. And as a result, I wanted to drink clean wine. And why would you put chemicals and additives in wine if you don't have to? So I figured out how to make it without it. "
"The whites and roses are a little more complicated to make a natural way, they're a little fragile. But the reds are easy because they have the skins on."
"The yeast shapes the wine similar to the way that the weather patterns do throughout the year
"The byproduct of the natural yeast fermentation is sulfur!" The excitement in Pohl's voice was tangible over this fact. "You can actually smell sulfur during the fermentation."
I'm curious, were you a winemaker first or someone who was concerned about the environment?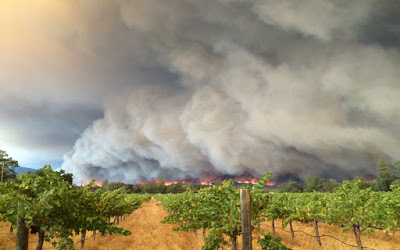 "Well there's all things together, you want to do good things, you want to drink healthy wines, you want to help the planet."
"I was an immigrant here, I was in San Francisco for 5 years working as a waiter. But that actually helped me learn about wine. Two friends and I then had the idea to start a winery." "We had no prior experience in winemaking, so we learned from scratch."
"What inspired me was actually my mother, she sent me this book about biodynamic wines which made it clear to me from the beginning that we should make healthy wines in order to help the planet and ourselves."
What are some of the things that you do to protect your land?
"We don't till our soil anymore. We have one field that we haven't tilled since 2012, and the other one we stopped tilling three years ago."
"We don't own the land so we're kind of limited in what we can do. We develop our own compost, and this is the only substance that we use for fertilization." This is standard for biodynamic wines.
"We irrigate some because it is so hot here in Lake County," Pohl said. "We used to be a dry farm actually until 2014, and then it was a disaster between gophers, the fire, and the drought." If you don't already know, gophers happen to be the bane of a winemaker's existence. They feast on the roots of vines and sometimes can take plants underground.
"You would probably be surprised with organic grapes how many different additives you are allowed to add." But with Biodynamic wine grapes, the regulations are quite strict, only natural methods may be used.
Written by Rachel Heleva, Marketing Specialist
More >>
There are many buzzwords that seem to surround our food; organic, sustainable, healthy, natural, the list goes on and on. Whether you have heard of the term biodynamic before or this is your first time encountering, you may feel the urge to view it as just another trendy term used to describe food. But the term biodynamic refers to a method of cultivation that aims to promote harmony between the natural world and those that live in it.
Biodynamics overview
Food plays an important role not only in our daily lives but in our culture and economy as well. But oftentimes getting dinner on the table takes precedent over wondering how it was grown and where it came from. This is unfortunate because pesticides, hormones, and over-processed foods are just some of the ills contributing to our and our planet's health issues.
Biodynamic agriculture is a response to this issue. This style of cultivation has roots in the philosophy of Rudolf Steiner, which asserts that a farm or vineyard is a living system in its own right. He emphasized the relationships between plants, soil, and animals as the lifeblood of a farm. The aim of biodynamic farming is to create a system that is self-sustaining, using compost instead of chemical fertilizers.
As a practice, this style of farming goes a step further than organic cultivation, not only avoiding pesticides but following the natural rhythms of the environment. The guidelines that Biodynamic farms must follow are quite strict; they must use self-contained composting materials, only compost can be used as a fertilizing material, and the use of plastic materials in the farm's infrastructure is not permitted. Producers who wish to label their products as biodynamic must be properly credentialed by an organization called Demeter. In order to become certified cultivators must use eight mineral and plant-based preparations to activate soil life and plant growth on the land.
The Biodynamic Farming and Gardening Association defines biodynamic agriculture as "a spiritual-ethical-ecological approach to agriculture, gardens, food production and nutrition." Biodynamic farming uses sustainable practices to ensure that the land is left in as good or better shape as it was found for future generations.
Biodynamic viticulture
So biodynamic viticulture refers to using these sorts of natural and holistic practices to make wine. Biodynamic vineyards thus become a haven for local flora and fauna, barring a few select pests(e.g. gophers and insects) who would eat every grape before it ever graced a barrel if they had their way.
Gerard Bertrand, a world-renowned producer of biodynamic wines, characterizes biodynamic wine as possessing "more freshness, more minerality, and more complexity." He asserts that the soil is what determines a wine's terroir, and to use chemicals in the soil strips it of its unique characteristics. Because of the level of care biodynamic farmers use in their vineyards biodynamic wine is said to have a higher-quality taste than other types of wine.
We carry a variety of biodynamic wines here at the Co-op from producers such as Beaver Creek, Frey Vineyards, and Lunaria Orsogna.
More >>