We recently had the chance to speak with Martin Pohl from Beaver Creek Vineyards about why biodynamic wine is more than just the latest trend in the wine industry. Beaver Creek Vineyards is located in Lake County, California, and produces biodynamic wines. Martin Pohl is the owner and winemaker of Beaver Creek, and his overriding philosophy is to work with nature, not against it.
About 50 sheep roam amongst the vineyard's rows, a flock which Pohl herds himself. He views himself as a steward of the land on which his vineyard rests. He has faced various challenges in protecting it, "There have been many hits, Lake County suffers from droughts, there was the fire in 2015."
Despite these setbacks, he still sees his plot of land as nearly perfect. "It's a perfect place because it's dry, so there's barely any pest problems." Other regions, such as those on the coast, face greater pest problems because of the humidity. "They almost have to use pesticides," Pohl said. "Here it's so ideal, I don't have to spray for mildew, we don't use any chemicals, it's completely clean."
His philosophy of non-interference extends from the vineyard to the wine barrels as well. "None of our wines have any sulfites added," Pohl said. This is important to Pohl because he views natural wines as a living system. "Think of it kind of like the human immune system," Pohl said. "When you add sulfites you compromise that system. They might prolong the shelf life of wine but they shorten its lifespan"
He has hopes for expansion sometime in the near future. He split with his partners in 2012 and will soon be the sole owner of the vineyard.
How did you become so interested in organics and biodynamics?
"It starts with a lifestyle, right? For the last 10 or 15 years, I always feel like I've been ahead of the curve. I started my organic lifestyle around 20 years ago. And as a result, I wanted to drink clean wine. And why would you put chemicals and additives in wine if you don't have to? So I figured out how to make it without it. "
"The whites and roses are a little more complicated to make a natural way, they're a little fragile. But the reds are easy because they have the skins on."
"The yeast shapes the wine similar to the way that the weather patterns do throughout the year
"The byproduct of the natural yeast fermentation is sulfur!" The excitement in Pohl's voice was tangible over this fact. "You can actually smell sulfur during the fermentation."
I'm curious, were you a winemaker first or someone who was concerned about the environment?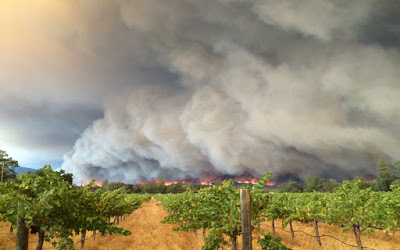 "Well there's all things together, you want to do good things, you want to drink healthy wines, you want to help the planet."
"I was an immigrant here, I was in San Francisco for 5 years working as a waiter. But that actually helped me learn about wine. Two friends and I then had the idea to start a winery." "We had no prior experience in winemaking, so we learned from scratch."
"What inspired me was actually my mother, she sent me this book about biodynamic wines which made it clear to me from the beginning that we should make healthy wines in order to help the planet and ourselves."
What are some of the things that you do to protect your land?
"We don't till our soil anymore. We have one field that we haven't tilled since 2012, and the other one we stopped tilling three years ago."
"We don't own the land so we're kind of limited in what we can do. We develop our own compost, and this is the only substance that we use for fertilization." This is standard for biodynamic wines.
"We irrigate some because it is so hot here in Lake County," Pohl said. "We used to be a dry farm actually until 2014, and then it was a disaster between gophers, the fire, and the drought." If you don't already know, gophers happen to be the bane of a winemaker's existence. They feast on the roots of vines and sometimes can take plants underground.
"You would probably be surprised with organic grapes how many different additives you are allowed to add." But with Biodynamic wine grapes, the regulations are quite strict, only natural methods may be used.
Written by Rachel Heleva, Marketing Specialist
More >>
How To Make Kombucha
If you followed our blog post last month about how to make your own kombucha SCOBY, then you are ready to make your first batch of kombucha! If you haven't followed those steps yet, give it a try and you'll be able to follow this tutorial in just a few weeks!
If you already have your SCOBY ready to go then read on.
Most store-bought Kombucha goes through two rounds of fermentation. The first round takes 5-10 days and is done with the SCOBY you have just made. The first round of fermentation is to build up probiotics in the kombucha from your SCOBY! The second fermentation is done in brewing bottles and does not use the SCOBY. The process is meant to build up CO2 in kombucha and infuse any other flavors. The second fermentation is not necessary for producing kombucha but I think it is well worth the week wait! Try some of the flavor combinations below!
Materials:
A 2 liter to 1-gallon jar
More tea
2-3 brewing bottles
Sweetener
Scoby
Fruits and/or herbs
Clean hands! This is an active culture and should only come into contact with very clean equipment
Instructions:
Once your SCOBY is complete, the liquid it is in will taste way to vinegary to drink! Dump all but 10-12 oz of that first batch. Then make some tea! The ratios will vary depending on the type of tea you wish to use. For this tutorial, I used Organic Jasmine from the Davis Food Co-op Bulk selection, but you can use earl grey, gun powder, white tea, oolong, yerba mate, or decaf/herbal tea. For each 1 cup of tea add ¼ cup unrefined sugar, agave, honey, or another sweetener. The sugar is necessary to feed the SCOBY! Let the tea cool to at least 80 Fahrenheit. Be sure to wash your hands thoroughly and in between touching anything, and I mean anything! Your SCOBY is a living culture and can grow mold if you are not clean in your processes. Remove your SCOBY, then add the tea to your jar with the small amount of original kombucha and place your SCOBY back on top of the liquid. Close the lid and set in a box in a cool place for 3-10 days.
After 5-10 days, make a new set of tea and set aside to cool to AT LEAST 80 degrees Fahrenheit.
While your tea is cooling, you can start the second round of fermentation prep! Remove your SCOBY and set aside on a clean plate. Pour some of the SCOBY tea through a filter (cheesecloth works well!) and funnel or carefully pour into your brewing bottles leaving about 1.5-2 inches of air at the top. Add some flavor and sweetener! Close the lids and set in a box in a cool place for 3-10 days.
Keep 10-12 oz of the original first-round kombucha and add the cool sweet tea, then gently put your SCOBY back in. Cover the jar with a breathable cloth. Place it in a cool, dark place for 5-10 days. The longer it sits the stronger and more tart or vinegary it will taste. This batch will be ready to bottle around the time your brew bottles are ready to be opened!
When you are ready to drink the finished kombucha after its second fermentation, place them in the fridge 4 to 6 hours before you plan on opening. If you open them at room temperature, the Kombucha will shoot out like champagne! Filter again and it is ready to drink! Yum!
Store opened kombucha in the fridge until you're ready to drink!
Flavor ideas:
Ginger and Dates, (2-3 Tbsp of fresh ginger and 1 date per 16 oz)
Ginger, Cardamom, and Sugar, (2-3 Tbsp of fresh ginger, 2-3 Cardamom seeds or 1/4 tsp of ground Cardamom, and 1 tsp of Sugar per 16 oz)
Strawberries (no sugar needed! They are sweet enough!), (1-2 Large Strawberries per 16 oz)
Lavender and Agave (3-5 lavender flower stalks and 1 tsp of agave per 16 oz)
Lavender, Sage, Rosemary, and Agave (1-2 stalks of each herb and 1 tsp of agave per 16 oz)
Elderberries and Blackberries (no sugar needed! They are sweet enough!), (2-3 of each berry per 16 oz)
Mulberries (no sugar needed! They are sweet enough!), (2-3 berries per 16 oz)
Tips:
Making Kombucha on a budget? Save the bottles from store-bought Kombucha for the second fermentation. If you use these bottles, you will need to burp them every day, meaning you will unscrew the lid to release the CO2 build up! They cannot handle the pressure build-up and are prone to break or cause the lid to shoot off!
Place the bottle of finished kombucha in the fridge 4-6 hours before opening! This will decrease the pressure to make it safer to open. If you leave the un-burped bottles in the fridge for too long before opening the CO2 pressure will simply build-up at the colder temperature and still shoot out like champagne! (see video!)
Taste your first round fermentation kombucha before started the second round. See how it tastes, is it strong enough or does it need more sugar? After a few batches of fermentation, you will start to get a feel for what the kombucha should taste like before bottling!
Written by Madison Suoja, Education and Outreach Specialist
More >>