We would like to recognize and appreciate all of the Field Workers at our Local Farms for the valuable role that they play in maintaining our food system and making the items that can be found at the Co-op so easily accessible. Through a pandemic, heat wave, wildfires and more, they are still out there working hard every day so that we can all have food on our tables. While we have chosen Labor Day as a day to express this appreciation, it is incumbent upon us all to show gratitude for the people that make every meal of ours possible throughout the entire year by recognizing the challenges that they face and advocating for protections for these workers.
Modern accesibility to food combined with a fast pace lifestlye can make it easy to overlook the importance of what is happening behind the scenes of the services we utilize on a daily basis. For many of us, we throw away our trash without any thought of the garbage collector that wakes up before the sun to take it away for us, we wear clothing without consideration for the person whose hands stiched it all together and all too often, we purchase and consume our food with no appreciation for the farmworker who picked that food for us, even in the harshest of conditions. Farmworkers keep the entire world fed by working in sometimes dangerous conditions, and yet they are often not protected by the same laws that protect other workers.
The most recent data that we have on farmworkers in the U.S. comes from a 2015-16 study conducted by the U.S. Department of Labor's National Agricultural Workers (NAW) Survey. Among many findings, the NAW reported that:
– There are an estimated 2.4 million farmworkers laboring on our nation's farms and ranches, cultivating and harvesting crops and raising and tending to livestock.
– The farm labor workforce is a predominantly immigrant workforce. According to the NAWS, approximately 75% of farmworkers are immigrants. Approximately 49% of farmworkers are immigrants who lack work authorization.
– Due to the seasonal nature of the work on many crop farms, the large majority of crop workers do not work year round, even if they work for more than one farm in a single year. Farmworkers averaged 33 weeks of farm work over the course of a year and worked an average of 45 hours per week.
– 57% of farmworkers are married, and 55% of farmworkers have children
– Farmworkers averaged $10.60 per hour in wages. The average annual individual income of farmworkers was in the range of $17,500 – $19,999.
– 33% of farmworker families had incomes below the poverty line. However, because the survey results did not include dependents living outside of the United States, this number may not completely reflect the full number of families living in poverty.
– Despite the high level of poverty, most farmworkers do not receive any public benefits. At the time of this study, only 18% of farmworkers received food stamps, 17% received WIC (a supplemental nutrition Program for Women, Infants and Children) and 43% received health insurance through a government program, like Medicaid.
– Most farmworkers (53%) have no health insurance, and limited access to health care, making them particularly vulnerable to environmental and occupational health hazards. It was found that 71% of workers reported that their employer did not provide health insurance or pay for medical treatment for injuries or illnesses suffered outside of work. Only 18% of employers offer health insurance to their workers.
Often, the first step towards positive change is through acknowledgement of the issues at hand. We believe that pushing for this positive change is the best way that we can truly show appreciation for our farmworkers. There are many great organizations that are actively advocating for farmworkers, both locally and nationally. We encourage you to check them out to learn more about the work that they are doing and how you can get involved and let us know of any other organizations we may have missed.
California Rural Legal Assistance Foundation (CRLAF): www.crlaf.org/
"CRLAF is a statewide non-profit civil legal aid organization providing free legal services and policy advocacy for California's rural poor. We focus on some of the most marginalized communities: the unrepresented, the unorganized and the undocumented.  We engage in community education and outreach, impact litigation, legislative and administrative advocacy, and public policy leadership at the state and local level. We seek to bring about social justice to rural poor communities by working to address the most pressing needs of our community: Labor, Housing, Education Equity, Health Care Access, Worker Safety, Citizenship, Immigration, and Environmental Justice."
Community Alliance with Family Farmers (CAFF): www.caff.org
" Founded in 1978, the Community Alliance with Family Farmers and The Farmers Guild is a California-based nonprofit that builds sustainable food and farming systems through local and statewide policy advocacy and on-the-ground programs in an effort to initiate institutionalized change. Our programs address current problems and challenges in food and farming systems, creating more resilient family farms, communities and ecosystems. We work to support family farmers and serve community members throughout the state, including consumers, food service directors, schoolchildren and low-income populations with the aim of growing a more resilient, just and abundant food system for all Californians."
The National Center for Farmworker Health (NCFH): www.ncfh.org/
"The National Center for Farmworker Health is a private, not-for-profit corporation located in Buda, Texas dedicated to improving the health status of farmworker families.  We provide information services, training and technical assistance, and a variety of products to community and migrant health centers nationwide, as well as organizations, universities, researchers and individuals involved in farmworker health."
Farmworker Justice: farmworkerjustice.org/
"Farmworker Justice is a nonprofit organization that seeks to empower migrant and seasonal farmworkers to improve their living and working conditions, immigration status, health, occupational safety, and access to justice. We work with farmworkers and their organizations throughout the nation. Based in Washington, D.C., Farmworker Justice was founded in 1981. In 1996, Farmworker Justice became a subsidiary corporation of UnidosUS (formerly the National Council of La Raza), the nation's largest constituency-based Hispanic civil rights organization."
United Farm Workers: ufw.org
"The UFW continues organizing in major agricultural sectors, chiefly in California. Recent years have witnessed dozens of UFW union contract victories protecting thousands of farm workers, among them agreements with the some of the largest berry, winery, tomato, dairy and mushroom companies in California and the nation. More than 75 percent of California's fresh mushroom industry is now under union contract. Many recent UFW-sponsored laws and regulations protect all farm workers in California, especially those at non-union ranches. They include the first state standards in the U.S. to prevent further deaths and illnesses from extreme heat and in 2016 the first law in the country providing farm workers in California with overtime pay after eight hours a day. The UFW continues to actively champion legislative and regulatory reforms for farm workers covering issues such as worker protections, pesticides and immigration reform."
– Vincent Marchese, Marketing Manager
[email protected]

More >>
We recently had the chance to speak with Martin Pohl from Beaver Creek Vineyards about why biodynamic wine is more than just the latest trend in the wine industry. Beaver Creek Vineyards is located in Lake County, California, and produces biodynamic wines. Martin Pohl is the owner and winemaker of Beaver Creek, and his overriding philosophy is to work with nature, not against it.
About 50 sheep roam amongst the vineyard's rows, a flock which Pohl herds himself. He views himself as a steward of the land on which his vineyard rests. He has faced various challenges in protecting it, "There have been many hits, Lake County suffers from droughts, there was the fire in 2015."
Despite these setbacks, he still sees his plot of land as nearly perfect. "It's a perfect place because it's dry, so there's barely any pest problems." Other regions, such as those on the coast, face greater pest problems because of the humidity. "They almost have to use pesticides," Pohl said. "Here it's so ideal, I don't have to spray for mildew, we don't use any chemicals, it's completely clean."
His philosophy of non-interference extends from the vineyard to the wine barrels as well. "None of our wines have any sulfites added," Pohl said. This is important to Pohl because he views natural wines as a living system. "Think of it kind of like the human immune system," Pohl said. "When you add sulfites you compromise that system. They might prolong the shelf life of wine but they shorten its lifespan"
He has hopes for expansion sometime in the near future. He split with his partners in 2012 and will soon be the sole owner of the vineyard.
How did you become so interested in organics and biodynamics?
"It starts with a lifestyle, right? For the last 10 or 15 years, I always feel like I've been ahead of the curve. I started my organic lifestyle around 20 years ago. And as a result, I wanted to drink clean wine. And why would you put chemicals and additives in wine if you don't have to? So I figured out how to make it without it. "
"The whites and roses are a little more complicated to make a natural way, they're a little fragile. But the reds are easy because they have the skins on."
"The yeast shapes the wine similar to the way that the weather patterns do throughout the year
"The byproduct of the natural yeast fermentation is sulfur!" The excitement in Pohl's voice was tangible over this fact. "You can actually smell sulfur during the fermentation."
I'm curious, were you a winemaker first or someone who was concerned about the environment?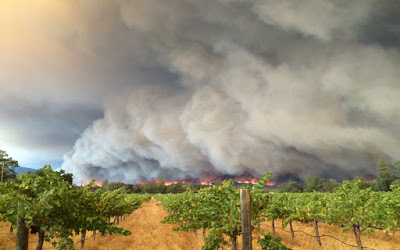 "Well there's all things together, you want to do good things, you want to drink healthy wines, you want to help the planet."
"I was an immigrant here, I was in San Francisco for 5 years working as a waiter. But that actually helped me learn about wine. Two friends and I then had the idea to start a winery." "We had no prior experience in winemaking, so we learned from scratch."
"What inspired me was actually my mother, she sent me this book about biodynamic wines which made it clear to me from the beginning that we should make healthy wines in order to help the planet and ourselves."
What are some of the things that you do to protect your land?
"We don't till our soil anymore. We have one field that we haven't tilled since 2012, and the other one we stopped tilling three years ago."
"We don't own the land so we're kind of limited in what we can do. We develop our own compost, and this is the only substance that we use for fertilization." This is standard for biodynamic wines.
"We irrigate some because it is so hot here in Lake County," Pohl said. "We used to be a dry farm actually until 2014, and then it was a disaster between gophers, the fire, and the drought." If you don't already know, gophers happen to be the bane of a winemaker's existence. They feast on the roots of vines and sometimes can take plants underground.
"You would probably be surprised with organic grapes how many different additives you are allowed to add." But with Biodynamic wine grapes, the regulations are quite strict, only natural methods may be used.
Written by Rachel Heleva, Marketing Specialist
More >>
According to Jane Goodall's book, "Harvest for Hope", when chimps were given a choice between organic bananas and conventional bananas 9 out of 10 times they would choose organic!
Interestingly when only given conventional bananas the chimps would peel the fruit before eating it, whereas with organic bananas they would simply eat the whole thing, peel and all!
Top Reasons to Buy Organic:
Organic is Better for The People
Overall the standard of living for workers on organic farms is much greater than conventional farmworkers. Conventional farmworkers have much more exposure to toxic chemicals and also tend to have a worse standard of life.
The World Health Organization (WHO) has identified pesticide poisoning as a leading cause of public morbidity and mortality.
Sadly, it is quite common for conventional farmworkers to commit suicide due to the stressful environment, and this is often done using the toxic synthetic pesticides themselves.
Globally, death from deliberate ingestion of pesticides claims more than 168,000 lives every year, which accounted for 20% of all suicides, and the majority of these incidents were reported from developing countries.
In addition, many organic farms are small family-owned farms, so when you buy local organic you can help support farmers in your community!
This is not always true of course as there are corporations switching to organic due to the demand from the public, and these farms, while still being better for your health and for the environment, may not necessarily be small and local.
However, if you do your shopping at the local farmers market or local co-op, the organic produce you buy is supporting local farmers!

Organic is Better for Your Health
Organically grown produce has little to no pesticide residue, so by simply buying organic produce you can drastically reduce your exposure to chemical toxins.
Organic foods may still have small amounts of chemical residue, mainly due to contamination from nearby conventional farms, as well as having trace amounts of organic pesticides.
Most organic pesticides are not synthetic and are derived from natural sources, such as minerals, plants, and bacteria.
Although organic agriculture still uses pesticides they tend to be much less harmful to humans and the environment because they are readily broken down.
In contrast many synthetic pesticides are known to persist in the environment as well as in people and animals too!
To better understand the difference between synthetic and organic pesticides it helps to think of a paper bag vs. a plastic bag. They are both bags, but the paper one is made of natural materials and the plastic one is made of synthetic, man-made materials.
If you were to take both bags, pour some water on them and leave them outside for a few weeks you will notice that the paper bag has been completely decomposed where the plastic bag hasn't broken down at all and practically looks the same as it did weeks ago!
Organic is Better for The Animals
One of the biggest concerns with industrial agriculture is the horrific treatment of farm animals.
Chickens are crammed inside egg houses by the thousands without ever getting the chance to peck around in a field. Cows are denied open pastures and are instead confined to filthy areas where they have to live in their own feces. And pigs are kept in cages so small that they cannot even lay down.
Along with this cruel and unusual treatment, all of the animals are fed unnatural diets and are constantly pumped full of growth hormones and antibiotics.
One option to prevent your money from supporting the companies that treat their animals like this is to go vegetarian or vegan, but for those who still want to have meat every now and then, there are more humane options.
One of which is to only buy organic animal products!
According to USDA Organic Standards, if an animal product is organic it is required that the animal is fed a natural diet that is 100% organic, not treated with antibiotics or hormones, and is allowed access to the outdoors year-round!
That means that when you buy organic you are ensured that the animal was provided with a more natural living situation, where chickens can peck and cows can graze.
Organic is Better for The Environment
Industrial agriculture is one of the largest contributors to environmental degradation and climate change.
About 25 to 30 percent of global greenhouse gas emissions are due to conventional farming practices.
The ecological imbalance caused by monocultures and excessive use of chemicals has resulted in water pollution, decreased soil fertility, and enormous increases in pests and crop diseases, which farmers counter by spraying ever-larger doses of pesticides in a vicious cycle of depletion and destruction.
Organic farming is much more sustainable than conventional farming.
Many organic farms engage in a variety of sustainable practices such as no-till farming, crop rotation, biological pest control, polyculture, and the incorporation of hedgerows. These practices reduce erosion and soil depletion and help to encourage biodiversity.
Most of these practices are actually very old, traditional ways of farming that are now being embraced by organic farmers in order to move away from industrial agriculture.
Every dollar that you spend on organic produce is a dollar that is supporting the well being of our planet for all future generations to come.
More on Pesticides:
A pesticide is any substance used to kill, repel, or control certain forms of plant or animal life that are considered to be pests.
The World Health organization describes them as such, "by their nature, pesticides are potentially toxic to other organisms, including humans, and need to be used safely and disposed of properly."
According to the National Institute of Environmental Health Services, evidence suggests that children are particularly susceptible to adverse effects from exposure to pesticides, including neurodevelopmental effects.
Because of the widespread use of agricultural chemicals in food production, people are exposed to low levels of pesticide residues through their diets but may also be exposed to pesticides used in a variety of settings including homes, schools, hospitals, and workplaces.
The United States Department of Agriculture (USDA) is responsible for the Pesticide Data Program (PDP), a national pesticide residue testing effort achieved through cooperative programs with State agriculture departments and other Federal agencies. The PDP tests both fresh and processed fruit and vegetables, grains, dairy, meat, poultry, and other specialty food items such as honey, corn syrup, infant formula, fish, and nuts for pesticide residues.
The Environmental Protection Agency (EPA) is responsible for analyzing chemicals detected by the PDP and determining a "tolerance level". These tolerance levels are established based on the LD50 (Lethal Dose 50) for each individual compound. The LD50 is a substance toxicity test in which a subject group (typically mice or rabbits) are exposed to a toxic chemical and then observed until the amount of that chemical administered causes 50% of the population to die. The EPA uses the LD50 as a tolerance reference in order to determine the maximum amount of certain chemicals that may legally remain on food.
The Food and Drug Administration (FDA) is then responsible for the enforcement of these tolerances set by the EPA. This is done through the annual Pesticide Residue Monitoring Program in which a broad range of domestic and imported foods are sampled and tested for pesticide residue.
According to the 2018 PDP annual summary foods tested that violated the tolerance level set by the EPA included mangoes, asparagus, cilantro, cabbage, canned cranberries, raisins, and canned olives.
Low levels of environmental contaminants, pesticides that have been canceled in the U.S. but their residues persist in the environment, such as DDT were also found on foods such as cilantro, kale, frozen spinach, and snap peas.
But where do these chemicals go when eating them?
Studies have shown that pesticides tend to accumulate in the fatty tissues and reproductive organs of mammals where they can stay for a very, very long time.
The long term health effects of pesticides are still largely unknown, however, an ongoing study known as the Agricultural Health Study has linked pesticides to many health problems including childhood development, immune health, and the development of cancers and other diseases.
The truth
While it may be efficient to exploit certain crops for mass production, conventional agriculture is a major contributor to land degradation, biodiversity loss, and air and water pollution due to the immense amount of synthetic pesticides and herbicides that are used to maintain massive crop monocultures.
Conventional agriculture is not farming. It is an unsustainable food production industry in which the best interests of consumers and the Earth as a whole are overlooked in the pursuit of profit.
That being said, buying organic is by no means a perfect answer to health, climate, and social justice issues.
However, it is definitely a conscious step in the right direction!
Written by Rheanna Smith, Education Specialist
More >>