6 refreshing salad recipes that best incorporate flavors of season. Whether it's for a summer BBQ or a weeknight family dinner, these salads are perfect for any occasion.
Spinach STRAWBERRY GOAT CHEESE SALAD
The perfect sweet and savory salad with tender spinach, juicy strawberries, crunchy pecans and a honey dijon dressing.
Find the recipe here.
Chicken Caprese Salad
Sweet and tangy balsamic reduction drizzled over fresh basil and tomato paired with creamy avocado, grilled chicken and mozzarella.
Find the recipe here.
Orzo Pasta Salad
Hearty and full of Mediterranean flavors with fresh cherry tomatoes, tangy artichoke hearts, and crisp bell pepper.
Find the recipe here.
Kale and Blood Orange Salad
Crisp red onion, juicy grapefruit, and tangy feta cheese makes for the perfect burst of citrus zest in each bite.
Find the recipe here.
Waldorf Salad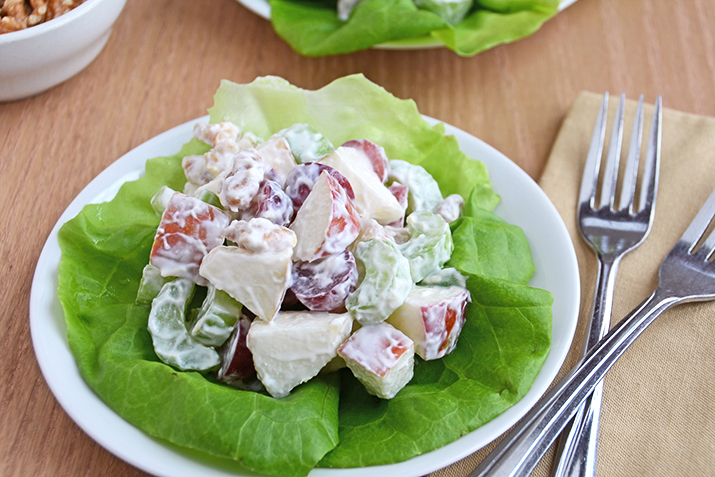 Crisp apples and celery paired with juicy grapes in a sweet and creamy yogurt honey dressing.
Find the recipe here.
CRUNCHY BELL PEPPER SALAD
Made with sweet crunchy bell peppers, fresh herbs, and a tangy balsamic dressing – this salad is full of textures and fresh flavors.
Find the recipe here.
More >>
Freezing Fruits
Wash fruits and sort for damaged fruit before freezing. Some fruits do best with a sugar or sugar-syrup preparation. Blueberries, currants, and cranberries do fine without sugar.
Here's a trick for freezing delicate berries like strawberries or raspberries: Arrange them in a single layer on a baking sheet. Once frozen, transfer to a plastic freezer bag or container. You can also prepare delicate berries with sugar or sugar syrup.
For fruits that tend to brown, like apples, peaches, nectarines, and apricots, treat with ascorbic acid (Vitamin C).
To make an ascorbic acid wash: Dissolve 1/2 teaspoon of ascorbic acid powder (or finely crushed vitamin C tablets) in 3 tablespoons water. Sprinkle this mixture over the cut fruit.
An acceptable substitute: Slice the fruit and dip the slices in an acidulated water bath — about one-quart water plus a tablespoon of lemon juice — before drying and freezing.
If you are freezing fruits for smoothies, there is no need to make an ascorbic acid wash.
Strawberry Rhubarb Sage Empanadas (Rhubard freezes super well! Cut into the size you want in your future pies before freezing!)
Freezing Veggies
The best vegetables for freezing are low-acid veggies. When freezing vegetables, first blanch them briefly in boiling water. Then quickly submerge the veggies in ice water to prevent them from cooking. Dry thoroughly on paper towel-lined sheet pans.
Why blanch? Blanching prevents enzymes from damaging color, flavor, and nutrients. Blanching also destroys unkind microorganisms that might be lingering on the surface of vegetables. Pack vegetables snuggly to avoid air contact.
If you are freezing vegetables for stock, there is no need to blanch.
Garren Vegetable Bake (Zucchini and Pea save very well in the freezer!)
More >>