We would like to recognize and appreciate all of the Field Workers at our Local Farms for the valuable role that they play in maintaining our food system and making the items that can be found at the Co-op so easily accessible. Through a pandemic, heat wave, wildfires and more, they are still out there working hard every day so that we can all have food on our tables. While we have chosen Labor Day as a day to express this appreciation, it is incumbent upon us all to show gratitude for the people that make every meal of ours possible throughout the entire year by recognizing the challenges that they face and advocating for protections for these workers.
Modern accesibility to food combined with a fast pace lifestlye can make it easy to overlook the importance of what is happening behind the scenes of the services we utilize on a daily basis. For many of us, we throw away our trash without any thought of the garbage collector that wakes up before the sun to take it away for us, we wear clothing without consideration for the person whose hands stiched it all together and all too often, we purchase and consume our food with no appreciation for the farmworker who picked that food for us, even in the harshest of conditions. Farmworkers keep the entire world fed by working in sometimes dangerous conditions, and yet they are often not protected by the same laws that protect other workers.
The most recent data that we have on farmworkers in the U.S. comes from a 2015-16 study conducted by the U.S. Department of Labor's National Agricultural Workers (NAW) Survey. Among many findings, the NAW reported that:
– There are an estimated 2.4 million farmworkers laboring on our nation's farms and ranches, cultivating and harvesting crops and raising and tending to livestock.
– The farm labor workforce is a predominantly immigrant workforce. According to the NAWS, approximately 75% of farmworkers are immigrants. Approximately 49% of farmworkers are immigrants who lack work authorization.
– Due to the seasonal nature of the work on many crop farms, the large majority of crop workers do not work year round, even if they work for more than one farm in a single year. Farmworkers averaged 33 weeks of farm work over the course of a year and worked an average of 45 hours per week.
– 57% of farmworkers are married, and 55% of farmworkers have children
– Farmworkers averaged $10.60 per hour in wages. The average annual individual income of farmworkers was in the range of $17,500 – $19,999.
– 33% of farmworker families had incomes below the poverty line. However, because the survey results did not include dependents living outside of the United States, this number may not completely reflect the full number of families living in poverty.
– Despite the high level of poverty, most farmworkers do not receive any public benefits. At the time of this study, only 18% of farmworkers received food stamps, 17% received WIC (a supplemental nutrition Program for Women, Infants and Children) and 43% received health insurance through a government program, like Medicaid.
– Most farmworkers (53%) have no health insurance, and limited access to health care, making them particularly vulnerable to environmental and occupational health hazards. It was found that 71% of workers reported that their employer did not provide health insurance or pay for medical treatment for injuries or illnesses suffered outside of work. Only 18% of employers offer health insurance to their workers.
Often, the first step towards positive change is through acknowledgement of the issues at hand. We believe that pushing for this positive change is the best way that we can truly show appreciation for our farmworkers. There are many great organizations that are actively advocating for farmworkers, both locally and nationally. We encourage you to check them out to learn more about the work that they are doing and how you can get involved and let us know of any other organizations we may have missed.
California Rural Legal Assistance Foundation (CRLAF): www.crlaf.org/
"CRLAF is a statewide non-profit civil legal aid organization providing free legal services and policy advocacy for California's rural poor. We focus on some of the most marginalized communities: the unrepresented, the unorganized and the undocumented.  We engage in community education and outreach, impact litigation, legislative and administrative advocacy, and public policy leadership at the state and local level. We seek to bring about social justice to rural poor communities by working to address the most pressing needs of our community: Labor, Housing, Education Equity, Health Care Access, Worker Safety, Citizenship, Immigration, and Environmental Justice."
Community Alliance with Family Farmers (CAFF): www.caff.org
" Founded in 1978, the Community Alliance with Family Farmers and The Farmers Guild is a California-based nonprofit that builds sustainable food and farming systems through local and statewide policy advocacy and on-the-ground programs in an effort to initiate institutionalized change. Our programs address current problems and challenges in food and farming systems, creating more resilient family farms, communities and ecosystems. We work to support family farmers and serve community members throughout the state, including consumers, food service directors, schoolchildren and low-income populations with the aim of growing a more resilient, just and abundant food system for all Californians."
The National Center for Farmworker Health (NCFH): www.ncfh.org/
"The National Center for Farmworker Health is a private, not-for-profit corporation located in Buda, Texas dedicated to improving the health status of farmworker families.  We provide information services, training and technical assistance, and a variety of products to community and migrant health centers nationwide, as well as organizations, universities, researchers and individuals involved in farmworker health."
Farmworker Justice: farmworkerjustice.org/
"Farmworker Justice is a nonprofit organization that seeks to empower migrant and seasonal farmworkers to improve their living and working conditions, immigration status, health, occupational safety, and access to justice. We work with farmworkers and their organizations throughout the nation. Based in Washington, D.C., Farmworker Justice was founded in 1981. In 1996, Farmworker Justice became a subsidiary corporation of UnidosUS (formerly the National Council of La Raza), the nation's largest constituency-based Hispanic civil rights organization."
United Farm Workers: ufw.org
"The UFW continues organizing in major agricultural sectors, chiefly in California. Recent years have witnessed dozens of UFW union contract victories protecting thousands of farm workers, among them agreements with the some of the largest berry, winery, tomato, dairy and mushroom companies in California and the nation. More than 75 percent of California's fresh mushroom industry is now under union contract. Many recent UFW-sponsored laws and regulations protect all farm workers in California, especially those at non-union ranches. They include the first state standards in the U.S. to prevent further deaths and illnesses from extreme heat and in 2016 the first law in the country providing farm workers in California with overtime pay after eight hours a day. The UFW continues to actively champion legislative and regulatory reforms for farm workers covering issues such as worker protections, pesticides and immigration reform."
– Vincent Marchese, Marketing Manager
[email protected]

More >>
We recently had the chance to speak with Martin Pohl from Beaver Creek Vineyards about why biodynamic wine is more than just the latest trend in the wine industry. Beaver Creek Vineyards is located in Lake County, California, and produces biodynamic wines. Martin Pohl is the owner and winemaker of Beaver Creek, and his overriding philosophy is to work with nature, not against it.
About 50 sheep roam amongst the vineyard's rows, a flock which Pohl herds himself. He views himself as a steward of the land on which his vineyard rests. He has faced various challenges in protecting it, "There have been many hits, Lake County suffers from droughts, there was the fire in 2015."
Despite these setbacks, he still sees his plot of land as nearly perfect. "It's a perfect place because it's dry, so there's barely any pest problems." Other regions, such as those on the coast, face greater pest problems because of the humidity. "They almost have to use pesticides," Pohl said. "Here it's so ideal, I don't have to spray for mildew, we don't use any chemicals, it's completely clean."
His philosophy of non-interference extends from the vineyard to the wine barrels as well. "None of our wines have any sulfites added," Pohl said. This is important to Pohl because he views natural wines as a living system. "Think of it kind of like the human immune system," Pohl said. "When you add sulfites you compromise that system. They might prolong the shelf life of wine but they shorten its lifespan"
He has hopes for expansion sometime in the near future. He split with his partners in 2012 and will soon be the sole owner of the vineyard.
How did you become so interested in organics and biodynamics?
"It starts with a lifestyle, right? For the last 10 or 15 years, I always feel like I've been ahead of the curve. I started my organic lifestyle around 20 years ago. And as a result, I wanted to drink clean wine. And why would you put chemicals and additives in wine if you don't have to? So I figured out how to make it without it. "
"The whites and roses are a little more complicated to make a natural way, they're a little fragile. But the reds are easy because they have the skins on."
"The yeast shapes the wine similar to the way that the weather patterns do throughout the year
"The byproduct of the natural yeast fermentation is sulfur!" The excitement in Pohl's voice was tangible over this fact. "You can actually smell sulfur during the fermentation."
I'm curious, were you a winemaker first or someone who was concerned about the environment?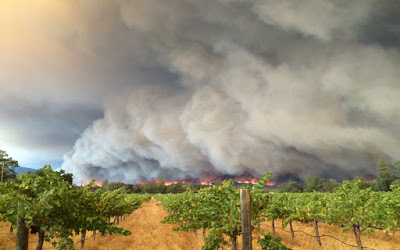 "Well there's all things together, you want to do good things, you want to drink healthy wines, you want to help the planet."
"I was an immigrant here, I was in San Francisco for 5 years working as a waiter. But that actually helped me learn about wine. Two friends and I then had the idea to start a winery." "We had no prior experience in winemaking, so we learned from scratch."
"What inspired me was actually my mother, she sent me this book about biodynamic wines which made it clear to me from the beginning that we should make healthy wines in order to help the planet and ourselves."
What are some of the things that you do to protect your land?
"We don't till our soil anymore. We have one field that we haven't tilled since 2012, and the other one we stopped tilling three years ago."
"We don't own the land so we're kind of limited in what we can do. We develop our own compost, and this is the only substance that we use for fertilization." This is standard for biodynamic wines.
"We irrigate some because it is so hot here in Lake County," Pohl said. "We used to be a dry farm actually until 2014, and then it was a disaster between gophers, the fire, and the drought." If you don't already know, gophers happen to be the bane of a winemaker's existence. They feast on the roots of vines and sometimes can take plants underground.
"You would probably be surprised with organic grapes how many different additives you are allowed to add." But with Biodynamic wine grapes, the regulations are quite strict, only natural methods may be used.
Written by Rachel Heleva, Marketing Specialist
More >>
We were fortunate to have the chance to speak with Emma Torbert from Cloverleaf Farm to hear about the unique structure they have and the sustainable practices that they use. Emma got her masters in Horticulture from UCD and worked for the Agricultural Sustainability Institute at UC Davis for seven years. Cloverleaf is an 8-acre organic orchard and farm outside of Davis, California on the Collins Farm that specializes in peaches, nectarines, apricots, figs, berries, and vegetables. The Cloverleaf follows regenerative principles including no-till, rotational grazing, and cover-cropping. The farm is co-owned by Emma Torbert, Katie Fyhrie, Kaitlin Oki, Yurytzy Sanchez, Neil Singh, Tess Kremer, and Kyle Chambers; who all manage the farm together in a cooperative and consensus-based fashion. You can find The Cloverleaf Farm's produce at the Sacramento Farmers Market on Sundays and at various grocery stores in Davis, Sacramento, and the Bay Area.
Cloverleaf seems to break the mold of what a traditional farm functions like. Traditionally farms are passed down generationally within families, but all of your farmers come from diverse backgrounds, how did that model get started at Cloverleaf?
"We started out a group of four women and then the farm passed through a number of different partners. As different people were leaving we were realizing that for the sake of future transitions and the longevity of the farm operation a worker-owned cooperative farm would be best, although we are currently still structured as a partnership. There are currently seven partners right now."

"We've been working with the California Center for Co-op Development for the last four years trying to figure out a way that everybody can own equal equity in the farm. 2014 was the first time that we started profit sharing and equity sharing. The equity sharing is not yet equal but that is what we are working with the CCCD on."

"One of our core principles in our vision statement is working as a team. An important thing in thinking about farm management for us is recognizing everybody's different skills and working together without an established hierarchical structure. We rotate who gets to be the crew leader every couple of weeks, so they are essentially the boss for those two weeks, which means everyone gets a chance to step into a leadership role."

How do you limit your greenhouse emissions?
"In terms of limiting our carbon footprint, we do a number of things. In terms of the transportation of our food, we try to deliver as locally as possible. We purposefully choose markets that are closer and do not take our products further than the bay area. We are always making the decision to try to sell closer to home."
"As for what happens in the field, all of our vegetables get grown no-till. Our orchards and all of our annual crops are no-till, which means that we don't use a tractor very often at all. In doing that we use less fossil fuel. We've also put solar panels around the farm, and can't wait until we can add more."
"Something else that really contributes to greenhouse gas emissions is water use. We use moisture sensors so that we use as little water as possible. We tread that fine line of watering as little as possible without stunting the growth of the trees in our orchards."

What are your pest management practices?
"We are an organic farm so we don't spray any pesticides while the fruit is on the trees. We do use pheromone sprays, which disrupt the mating cycles of a lot of stone fruit pests. We put out raptor perches and owl boxes. The main pests that we have trouble with are ground squirrels and gophers."

How do you try to limit your food waste?
We've been trying lots of different things for many years and I feel like this year it's all coming together, we have very little food waste coming from our farm right now. Our compost pile is pretty tiny right now considering the size of our farm.

"We have an Ugly Fruit club, which allows people to buy our third-grade fruit at a discounted price. We also create a lot of value-added products like jams and dried fruit, which allows us to still sell our less aesthetic fruit instead of wasting it."

"Something else that we do is donate to the food bank, especially this year when we're worried about our community being food insecure."

More >>