It is important to note that all these recipes will work great with baked, grilled, panfried, or crumbled tofu. These recipes work great in rice bowls, with veggies like bok Chou, onions, snap peas, carrots, and broccoli, or in a creative taco! Let us know what you create by posting a picture and tagging @davisfoodcoop!
Sweet Garlic Baked Tofu
2 teaspoons finely grated fresh ginger
2 teaspoons finely grated fresh garlic
2 teaspoons warmed honey
2 teaspoons light soy sauce
2 teaspoons mirin
2 tablespoons water
2 tablespoons peanut or toasted sesame oil
1 block extra-firm tofu, cut into 3/4-inch cubes
Instructions:
Preheat oven to 400ºF.
Place the grated garlic and ginger in a medium bowl. Add the honey, light soy sauce mirin, water, and oil. Whisk well to combine all ingredients
Place tofu cubes in a single layer in an 8×8″ glass baking dish. Take care not to crowd the pieces of tofu. Pour the marinade over the tofu pieces, turning them to coat well on all sides.
Bake in the oven for 15 minutes. Rotate pieces and bake for 15 more minutes, checking periodically that the liquid has not completely evaporated. Remove from oven and serve hot with dipping sauce or use in stir-fries.
Taco Tofu (Crumbed or small cubed)
2 Tbsp Tomato Paste 
1 Tbsp Water
1 tsp Smoked Paprika
1 tsp Cumin
2 tsp Chili Powder
sprinkle of Cloves
Salt and Pepper
1 Block Extra-Firm Tofu
Best with diced onions and mushrooms!
Instructions:
Mix tomato paste, water, and spices in a bowl. Add cubed or crumbled tofu and evenly coat.
Heat cast iron with a little oil.
Saute diced onions and mushrooms.
Add tofu and cook on medium heat until onions are slightly translucent.
Ginger Baked Tofu
1 pound extra-firm tofu, sliced into 1/2-inch thick rectangles
1/4 cup sesame oil
1 tablespoon garlic, minced (2-3 cloves)
2 tablespoons fresh ginger, peeled and minced (2-inch piece)
1/3 cup soy sauce
1/3 cup Mirin (sweet rice wine)
1/4 cup maple syrup
Instructions:
Preheat oven to 400ºF.
Pat the tofu rectangles dry with a paper towel, and place on a sheet pan with a rim. Brush the tofu with the sesame oil. Bake for 30 minutes, flipping each piece over after 15 minutes. Carefully drain most of the oil from the sheet pan. Mix together the ginger, garlic, tamari, Mirin and maple syrup, and pour it over the tofu. Bake for another 15 minutes until the tofu is firm and the sauce has reduced. Remove from heat and serve, drizzled with the sauce from the baking pan and garnished with fresh minced ginger, sesame seeds and scallions.
Cilantro Lime Grilled Tofu
14-ounce block extra-firm tofu
1/4 cup soy sauce
1 bunch cilantro, washed and dried
1/3 cup fresh ginger, peeled and chopped
2 tablespoons vegetable oil
1/2 teaspoon toasted sesame oil
1 teaspoon white sugar
1/8 teaspoon sea salt
1 teaspoon lime juice
1/4 cup black or white sesame seeds
Instructions:
Preheat grill to medium-high heat.
Beginning at the short end, slice the block of tofu into 8 even rectangles. Lay the tofu on a baking sheet and sprinkle with tamari. Let sit, flipping once while preparing the pesto.
Cut the stems off of the washed cilantro and puree the leaves in a blender or food processor with the fresh ginger, oils, sugar, salt, and lime juice. The resulting pesto should resemble a vibrant green smoothie.
Lightly oil the grill. Using a metal spatula, place the tofu on the grill and cook for 2 minutes. Flip and grill for 2 minutes on the other side. Remove to a plate and let cool, then toss with the cilantro pesto and garnish with ½ cup sesame seeds, black or white. Serve at room temperature or refrigerate until ready to use.
Miso-Sriracha
12 ounces extra-firm tofu
1 tablespoon vegetable oil
3 tablespoons soy sauce, divided
3 tablespoons toasted sesame oil, divided
1 tablespoon ginger, minced
1 teaspoon garlic, minced
1/4 cup brown sugar, loosely packed
2 tablespoons Sriracha
2 tablespoons seasoned rice wine vinegar
3 tablespoons white miso
Instructions:
Slice the tofu crosswise into 8 squares. In a large non-stick skillet, heat 1 tablespoon of vegetable oil over high heat. Add the tofu and sear until golden brown on each side. Reduce to medium heat, add 2 tablespoons of tamari, cook for 1-2 minutes, then flip the tofu and continue cooking until all the tamari is absorbed. Remove and reserve the tofu.
In a medium sauté pan, combine 2 tablespoons toasted sesame oil, seasoned rice wine vinegar, Sriracha, 1 tablespoon tamari and brown sugar. Bring the mixture to a boil, whisking to blend in the sugar. Turn off the heat and whisk in the miso paste until smooth. Gently add the tofu to the sauce, flipping once to coat. Let sit.
More >>
Summer is the season for tomatoes!
Here at the Co-op we love the many delicious varieties of tomatoes that are available in the summer. Tomatoes offer a juicy, fresh flavor and are a healthy meal addition to everything from potluck pasta salad to a classic sandwich.
Let us take some time to appreciate the tomato and all it has to offer.
Health Benefits:
Tomatoes are good sources of several vitamins and minerals
Vitamin C is essential for the production of collagen in the body and plays an important role in immunity by acting as an antioxidant in the body. One medium-sized tomato can provide about 28% of the Reference Daily Intake (RDI).
Tomatoes contain many phytochemicals
Don't forget to stop by our Produce Department for your fresh, local tomato needs!
More >>
6 refreshing salad recipes that best incorporate flavors of season. Whether it's for a summer BBQ or a weeknight family dinner, these salads are perfect for any occasion.
Spinach STRAWBERRY GOAT CHEESE SALAD
The perfect sweet and savory salad with tender spinach, juicy strawberries, crunchy pecans and a honey dijon dressing.
Find the recipe here.
Chicken Caprese Salad
Sweet and tangy balsamic reduction drizzled over fresh basil and tomato paired with creamy avocado, grilled chicken and mozzarella.
Find the recipe here.
Orzo Pasta Salad
Hearty and full of Mediterranean flavors with fresh cherry tomatoes, tangy artichoke hearts, and crisp bell pepper.
Find the recipe here.
Kale and Blood Orange Salad
Crisp red onion, juicy grapefruit, and tangy feta cheese makes for the perfect burst of citrus zest in each bite.
Find the recipe here.
Waldorf Salad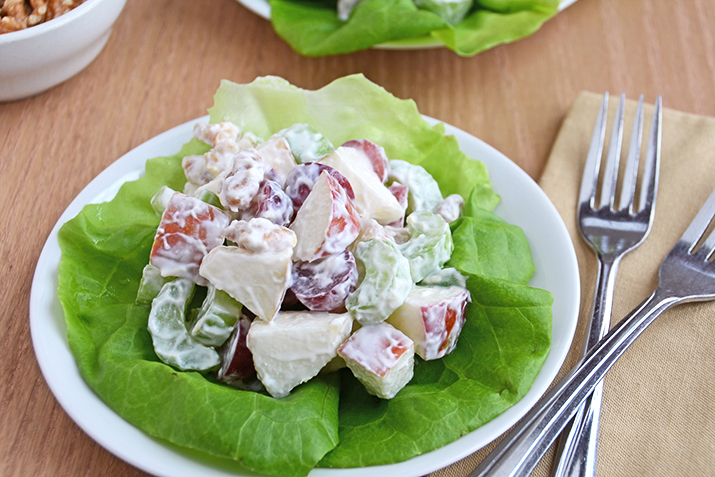 Crisp apples and celery paired with juicy grapes in a sweet and creamy yogurt honey dressing.
Find the recipe here.
CRUNCHY BELL PEPPER SALAD
Made with sweet crunchy bell peppers, fresh herbs, and a tangy balsamic dressing – this salad is full of textures and fresh flavors.
Find the recipe here.
More >>