We were fortunate to have the chance to speak with Emma Torbert from Cloverleaf Farm to hear about the unique structure they have and the sustainable practices that they use. Emma got her masters in Horticulture from UCD and worked for the Agricultural Sustainability Institute at UC Davis for seven years. Cloverleaf is an 8-acre organic orchard and farm outside of Davis, California on the Collins Farm that specializes in peaches, nectarines, apricots, figs, berries, and vegetables. The Cloverleaf follows regenerative principles including no-till, rotational grazing, and cover-cropping. The farm is co-owned by Emma Torbert, Katie Fyhrie, Kaitlin Oki, Yurytzy Sanchez, Neil Singh, Tess Kremer, and Kyle Chambers; who all manage the farm together in a cooperative and consensus-based fashion. You can find The Cloverleaf Farm's produce at the Sacramento Farmers Market on Sundays and at various grocery stores in Davis, Sacramento, and the Bay Area.
Cloverleaf seems to break the mold of what a traditional farm functions like. Traditionally farms are passed down generationally within families, but all of your farmers come from diverse backgrounds, how did that model get started at Cloverleaf?
"We started out a group of four women and then the farm passed through a number of different partners. As different people were leaving we were realizing that for the sake of future transitions and the longevity of the farm operation a worker-owned cooperative farm would be best, although we are currently still structured as a partnership. There are currently seven partners right now."

"We've been working with the California Center for Co-op Development for the last four years trying to figure out a way that everybody can own equal equity in the farm. 2014 was the first time that we started profit sharing and equity sharing. The equity sharing is not yet equal but that is what we are working with the CCCD on."

"One of our core principles in our vision statement is working as a team. An important thing in thinking about farm management for us is recognizing everybody's different skills and working together without an established hierarchical structure. We rotate who gets to be the crew leader every couple of weeks, so they are essentially the boss for those two weeks, which means everyone gets a chance to step into a leadership role."

How do you limit your greenhouse emissions?
"In terms of limiting our carbon footprint, we do a number of things. In terms of the transportation of our food, we try to deliver as locally as possible. We purposefully choose markets that are closer and do not take our products further than the bay area. We are always making the decision to try to sell closer to home."
"As for what happens in the field, all of our vegetables get grown no-till. Our orchards and all of our annual crops are no-till, which means that we don't use a tractor very often at all. In doing that we use less fossil fuel. We've also put solar panels around the farm, and can't wait until we can add more."
"Something else that really contributes to greenhouse gas emissions is water use. We use moisture sensors so that we use as little water as possible. We tread that fine line of watering as little as possible without stunting the growth of the trees in our orchards."

What are your pest management practices?
"We are an organic farm so we don't spray any pesticides while the fruit is on the trees. We do use pheromone sprays, which disrupt the mating cycles of a lot of stone fruit pests. We put out raptor perches and owl boxes. The main pests that we have trouble with are ground squirrels and gophers."

How do you try to limit your food waste?
We've been trying lots of different things for many years and I feel like this year it's all coming together, we have very little food waste coming from our farm right now. Our compost pile is pretty tiny right now considering the size of our farm.

"We have an Ugly Fruit club, which allows people to buy our third-grade fruit at a discounted price. We also create a lot of value-added products like jams and dried fruit, which allows us to still sell our less aesthetic fruit instead of wasting it."

"Something else that we do is donate to the food bank, especially this year when we're worried about our community being food insecure."

More >>
Summer is the season for tomatoes!
Here at the Co-op we love the many delicious varieties of tomatoes that are available in the summer. Tomatoes offer a juicy, fresh flavor and are a healthy meal addition to everything from potluck pasta salad to a classic sandwich.
Let us take some time to appreciate the tomato and all it has to offer.
Health Benefits:
Tomatoes are good sources of several vitamins and minerals
Vitamin C is essential for the production of collagen in the body and plays an important role in immunity by acting as an antioxidant in the body. One medium-sized tomato can provide about 28% of the Reference Daily Intake (RDI).
Tomatoes contain many phytochemicals
Don't forget to stop by our Produce Department for your fresh, local tomato needs!
More >>
6 refreshing salad recipes that best incorporate flavors of season. Whether it's for a summer BBQ or a weeknight family dinner, these salads are perfect for any occasion.
Spinach STRAWBERRY GOAT CHEESE SALAD
The perfect sweet and savory salad with tender spinach, juicy strawberries, crunchy pecans and a honey dijon dressing.
Find the recipe here.
Chicken Caprese Salad
Sweet and tangy balsamic reduction drizzled over fresh basil and tomato paired with creamy avocado, grilled chicken and mozzarella.
Find the recipe here.
Orzo Pasta Salad
Hearty and full of Mediterranean flavors with fresh cherry tomatoes, tangy artichoke hearts, and crisp bell pepper.
Find the recipe here.
Kale and Blood Orange Salad
Crisp red onion, juicy grapefruit, and tangy feta cheese makes for the perfect burst of citrus zest in each bite.
Find the recipe here.
Waldorf Salad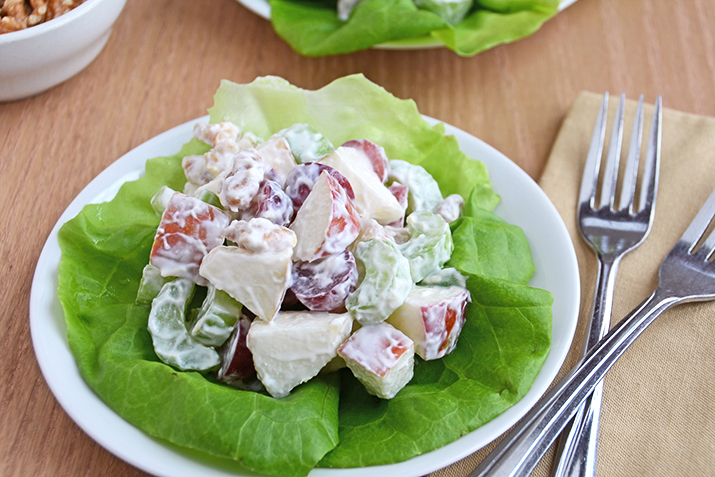 Crisp apples and celery paired with juicy grapes in a sweet and creamy yogurt honey dressing.
Find the recipe here.
CRUNCHY BELL PEPPER SALAD
Made with sweet crunchy bell peppers, fresh herbs, and a tangy balsamic dressing – this salad is full of textures and fresh flavors.
Find the recipe here.
More >>