This time of year it's especially important to wear sunscreen!
Every year in the U.S. about one third of the population gets sunburned and as most know, excessive sun exposure is linked to skin cancer.
When properly used, sunscreen is the best way to protect your skin from harmful UV rays and reduce the risk of skin cancer!
Now let's talk about the different kinds of sunscreen because contrary to popular belief, not all sunscreen ingredients are equal.
There are two main types, physical sunscreens and chemical sunscreens.
Physical Sunscreens:
Physical sunscreens contain active mineral ingredients that sit on the top of the skin and block UV rays. Examples are zinc oxide and titanium dioxide.
Pros:
Naturally broad-spectrum, offering protection against both UVA and UVB rays
No wait needed, protects from the sun as soon as its applied
Lasts longer when in direct UV light
Less likely to cause skin irritation or allergic reactions
Better option for sensitive or acne-prone skin because it's less pore-clogging
Longer shelf life
Cons:
May leave white film on skin making some formulas incompatible with darker skin tones
Can rub or rinse off easily
Must be applied generously to properly coat skin
Chemical Sunscreens:
Chemical sunscreens contain organic compounds such as oxybenzone, octinoxate, octocrylene, and avobenzone which soak into the top layer of skin and work by absorbing UV rays as they enter the skin.
Pros:
Less is needed to protect skin
Spreads easier on skin, tends to be a thinner consistency
Cons:
Requires 20-30 minutes after application to begin working
Higher risk of skin irritation, multiple ingredients are required to make broad spectrum formulas that protect against UVA and UVB
Re-application required frequently
May clog pores for oily skin types
The higher the SPF the higher the chance of irritation
Many compounds used are highly toxic to marine life
Environmental Impact:
As mentioned above, a big con of chemical sunscreens is that many of the compounds used are highly toxic to marine organisms, especially coral reefs.
Chemicals like oxybenzone, octinoxate and octocrylene damage coral and are largely responsible for coral reef bleaching.
Coral are bright and colorful because of microscopic algae called zooxanthellae.
Coral bleaching happens when coral becomes damaged or stressed and in response expel the algae, turning them white.
This makes for unhealthy coral reefs that cannot support marine wildlife.
Research done in Hawaii shows that coral reefs are exposed to 6,000 tons of sunscreen lotion every year.
When beachgoers wearing sunscreen go swimming they carry these chemicals into the ocean.
Concentrations as low as one drop of water in over six Olympic-sized swimming pools have shown to cause serious coral bleaching!
Coral reefs support some of the most biodiverse ecosystems on the planet!
Thousands of marine animals depend on coral reefs for survival, including sea turtles, fish, crabs, shrimp, jellyfish, sea birds, starfish, and more!
Sunscreen is essential for skin health and UV protection, but not all sunscreens are the same and its important to be mindful of the differences.
Take a little extra time to look over the ingredients next time you buy some screen, it will only benefit you and the environment!
Written by Rheanna Smith, Education Specialist
More >>
6 refreshing salad recipes that best incorporate flavors of season. Whether it's for a summer BBQ or a weeknight family dinner, these salads are perfect for any occasion.
Spinach STRAWBERRY GOAT CHEESE SALAD
The perfect sweet and savory salad with tender spinach, juicy strawberries, crunchy pecans and a honey dijon dressing.
Find the recipe here.
Chicken Caprese Salad
Sweet and tangy balsamic reduction drizzled over fresh basil and tomato paired with creamy avocado, grilled chicken and mozzarella.
Find the recipe here.
Orzo Pasta Salad
Hearty and full of Mediterranean flavors with fresh cherry tomatoes, tangy artichoke hearts, and crisp bell pepper.
Find the recipe here.
Kale and Blood Orange Salad
Crisp red onion, juicy grapefruit, and tangy feta cheese makes for the perfect burst of citrus zest in each bite.
Find the recipe here.
Waldorf Salad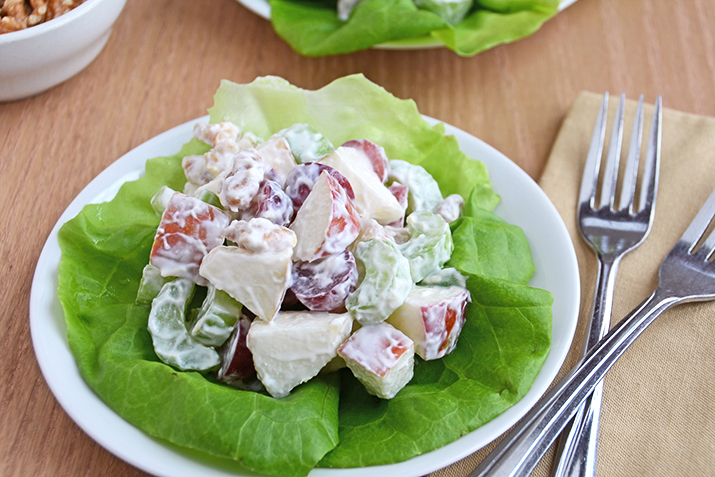 Crisp apples and celery paired with juicy grapes in a sweet and creamy yogurt honey dressing.
Find the recipe here.
CRUNCHY BELL PEPPER SALAD
Made with sweet crunchy bell peppers, fresh herbs, and a tangy balsamic dressing – this salad is full of textures and fresh flavors.
Find the recipe here.
More >>
Freezing Fruits
Wash fruits and sort for damaged fruit before freezing. Some fruits do best with a sugar or sugar-syrup preparation. Blueberries, currants, and cranberries do fine without sugar.
Here's a trick for freezing delicate berries like strawberries or raspberries: Arrange them in a single layer on a baking sheet. Once frozen, transfer to a plastic freezer bag or container. You can also prepare delicate berries with sugar or sugar syrup.
For fruits that tend to brown, like apples, peaches, nectarines, and apricots, treat with ascorbic acid (Vitamin C).
To make an ascorbic acid wash: Dissolve 1/2 teaspoon of ascorbic acid powder (or finely crushed vitamin C tablets) in 3 tablespoons water. Sprinkle this mixture over the cut fruit.
An acceptable substitute: Slice the fruit and dip the slices in an acidulated water bath — about one-quart water plus a tablespoon of lemon juice — before drying and freezing.
If you are freezing fruits for smoothies, there is no need to make an ascorbic acid wash.
Strawberry Rhubarb Sage Empanadas (Rhubard freezes super well! Cut into the size you want in your future pies before freezing!)
Freezing Veggies
The best vegetables for freezing are low-acid veggies. When freezing vegetables, first blanch them briefly in boiling water. Then quickly submerge the veggies in ice water to prevent them from cooking. Dry thoroughly on paper towel-lined sheet pans.
Why blanch? Blanching prevents enzymes from damaging color, flavor, and nutrients. Blanching also destroys unkind microorganisms that might be lingering on the surface of vegetables. Pack vegetables snuggly to avoid air contact.
If you are freezing vegetables for stock, there is no need to blanch.
Garren Vegetable Bake (Zucchini and Pea save very well in the freezer!)
More >>