Since 1880, Earth's temperature has risen by 0.14° Fahrenheit per decade, increasing to more than twice that (0.32° F) per decade since 1981. Each of us sees and feels the effects of climate change nearly every day with BIPOC, low income, and migrant communities feeling the effects more deeply. Co-ops offer a path forward. The cooperative business model, a solution that is tried and tested, addresses climate change while also confronting inequality, advancing democracy, building resilient economies, and confronting poverty.
Since it's Co-op Month, we'd like to explore ways in which co-ops are climate leaders and how our co-op addresses environmental sustainability.
WHY Co-ops?
We're not just bragging; co-ops are special. At the most basic level, cooperative businesses serve the needs of their Owners, whatever those needs might be, rather than delivering profit to investors. All cooperatives follow the 7 Cooperative Principles which serve as the model's code of ethics. Let's look at how these Principles affect the fight against climate change.
1. Voluntary and open membership

Effective climate change mitigation will only be achieved by complementary and collective action. Cooperative businesses are collective endeavors (the DFC is owned by more than 8,000 people!) with a lot of experience driving collective action. 

4. Autonomy and independence

Co-ops answer to their Owners, not to CEOs in boardrooms thousands of miles away. With the ability to make and execute decisions in store, co-ops can and do implement meaningful climate solutions. 

5. Education, training and information

Cooperatives have well developed information sharing channels among staff, their communities, and with other co-ops.

Many co-ops have a staff position or department specifically for Community Outreach, Education, or Sustainability 

7. Concern for community

According to this principle, all co-ops care about the wellbeing of the people, land, air, water, and animals in their communities. 

Co-ops stay rooted in their communities through good times and bad, offering strength and stability. 
Co-ops know how to plan for the long term
Cooperative businesses have no requirement for delivering short-term profits other than remaining commercially viable, which allows them to better plan for the long term. Co-ops are more likely to consider intergenerational solutions to climate change. 
Co-ops are the most resilient form of enterprise 
Co-ops survive, often finding creative solutions, when other businesses would simply close. As a result they are more stable businesses in communities. Stability and resilience will be key in communities increasingly affected by extreme weather. Similarly, co-ops establish their own supply chains which further insulate their communities from market shocks.

What does this look like at the Davis Food Co-op?
"The production, transportation, sale and consumption of food are significant contributors to global climate change and the degradation of our collective land, air, and water resources. For this reason, it is incumbent upon DFC to become a local leader in sustainability and environmental stewardship." – Davis Food Co-op Strategic Plan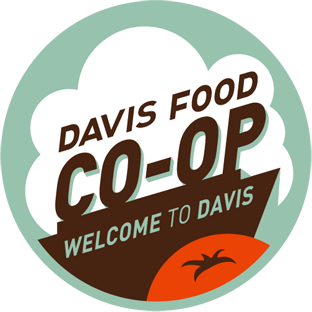 As laid out by the Co-op's Board of Directors in the Strategic Plan, Strategic Priority #5 is "Be a Model for Environmental Sustainability." Together our Board and General Manager work to implement changes in store to meet these priorities. Here are just a few ways the Strategic Plan made the co-op more sustainable. 
Energy

The Co-op uses 100% renewable energy from Valley Clean Energy
The most recent store remodel (2018) saw the installation of energy efficient coolers and other equipment

Water

Drought tolerant native landscaping around the store and Teaching Kitchen
Drip irrigation systems prevent water loss and runoff

Greenhouse Gas Emissions

21% of items on our shelves are made by 378 local vendors (within 100 miles of the Co-op)
Our Buyers favor local products partly because the carbon footprint from these items is smaller
The Co-op incentivizes staff to bike or walk to work

Plastic

Our Buyers increasingly pay attention to product packaging to reduce single use plastic in the store
The Co-op's Bulk, Produce, Wellness, and Dairy Departments offer hundreds of items free of plastic packaging
When supplies are available, we package Deli food in compostable containers
In 2019 we conducted an internal review of plastic use in the Meat Department and found pre-packaging meat significantly cut down on glove use so we started pre-packing most of our meat ultimately keeping more plastic out of the landfill
Participate in Plastic Free July providing education for staff and shoppers all month

Organic Waste

Learn about our extensive Food Rescue program here

Landfill Waste

We divert as much from the landfill as possible by making 4 waste streams available to shoppers and staff at all times
Educate staff and shoppers on waste sorting through signage and events

Recycling

We work with Recology, Terracycle, and others to offer personal care product recycling and battery recycling to everyone
Cardboard boxes in good shape get put in the Box Bin for anyone to use for shopping, moving, etc.
In addition to baking sustainability into our co-op's Strategic Plan, Ends, and Principles, our staff, owners and shoppers are, let's say, deeply passionate about the survival of the planet. 
The DFC will continue to implement changes which make the store and our community more sustainable.