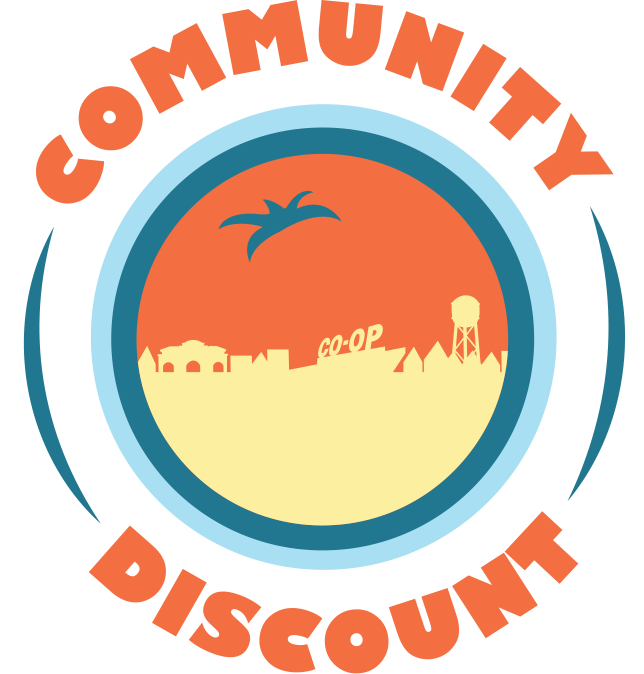 What is the Co-op's Community Discount Program?
 In our Ends Statement we vow to provide "Access to healthful, local and high-quality food". We need to think about everything that the word "access" really means. The fact of the matter is that for a large portion of the Davis population*,  simply having healthful and local food on our shelves is not sufficient if they feel they cannot afford it. The Co-op's Community Discount is an attempt to make our store truly accessible for as many people as possible.
The Community Discount offers 10% off of most grocery purchases** to eligible needs-based Member-Owners of the Davis Food Co-op. Learn more about the qualifications of this program and how to apply for it below.
* Research and data findings can be found at the bottom of this webpage
** A full list of exclusions can be found at the bottom of this webpage
Who is eligible for the new Community Discount?
To be eligible for the new Community Discount, applicants must be a current Member-Owner in good standing, fill out an application and show proof of ONE of the following eligibility requirements: 
Proof of current enrollment as a college student

(class schedule, transcript, etc – student ID does not count)

Proof of individual annual income below $36,450

(

This is calculated as 2.5x the current Federal Poverty Level for individual annual income***. Proof can include a paystub or tax form)


*** The Federal Poverty Level in 2023 is $14,580


Proof of enrollment in an income assistance program including, but not limited to:
CALFRESH/ SNAP, WIC, EBT, California Work Opportunity and Responsibility to Kids (CalWORKs), Cash Assistance Program for Immigrants (CAPI), Low-income Home Energy Assistance Program (HEAP), Medi-Cal/ Medicaid, Supplemental Security Income Program (SSI), Temporary Assistance for Needy Families (TANF), California State Disability Insurance (SDI) and other Disability Assistance Programs
What is the application process for the new Community Discount?
If you meet any of the listed eligibility requirements, you can apply for the program with these steps: 
Become a Member-Owner (if you are not already) of the Davis Food Co-op:

Activating Membership requires an initial $10 investment and $5 activation fee. After the first year of membership, an additional $20 investment will be required each year until you reach $300 of total equity invested***


***This investment is fully redeemable at any time.

Learn more about what it means to be a Member-Owner of the Co-op and all of its additional benefits

here

Fill out a Community Discount Application and provide proof of eligibility: 

You can fill out your application and submit your supporting document by clicking the "APPLY FOR THE DISCOUNT HERE" button on this webpage or by visiting our Customer Service Desk 

Wait up to 72 hours for confirmation of enrollment.

You will be notified by email if you have been successfully enrolled or if we need any additional information.

 

Resubmit an application and up-to-date documentation once per year.

Each year on the anniversary of your enrollment, you will be notified that it is time to submit new current documentation to remain eligible for the Community Discount. Enrollment also requires that your account is in good standing with up-to-date investment fees.
* Research & Data Findings
In considering and ultimately making this decision, hundreds of hours were spent by Co-op management and the Board of Directors between 2021-2023 to research and gather data in the following areas:
• Reviewing financial implications of the Co-op's discount programs
• Conducting and analyzing Customer Surveys
• Conducting and analyzing Focus Group research with Senior customers
• Research of, and conversations with, fellow grocery co-ops on the topic of low-income shopper assistance programs
• Research of needs-based programs offered in grocery store industry
• Review and analysis of 2022 Hartman Food Sourcing Study and Davis Census Data
Through this research we found:
• Since 2018, the Co-op has seen a 221% increase in use of food assistance programs WIC & EBT
• 26.4% of Davis citizens (nearly 18,000 people) live in poverty as defined by the Census Bureau
• 45% of UC Davis students experience food insecurity
• Over 80% of Seniors previously receiving the Senior Discount had an annual income that would exceed our standards for a "needs-based" discount
** Discount Exclusions
The following items are excluded from the 10% Community Discount: Tax, CRV, Newspapers, Deposits, Webcart Fees, Bag & Container Fees, Membership Equity & Fees, Coupons, Donations, Stamps, Fixtures, Event Tickets, and Special Orders